Trump puts minorities in his 'basket of deplorables'
Comments
By Jonathan Allen with NBC News Politics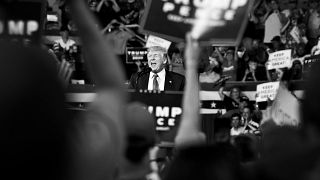 Copyright

Nicholas Kamm AFP - Getty Images file

-
LIVONIA, Mich. — President Donald Trump has found his "deplorables."
They live in cities. In some cases, they represent those cities. And their skin color isn't white.
In 2016, Hillary Clinton famously angered Trump voters by saying that half of them belonged in a "basket of deplorables," who were "irredeemable." Her remarks were printed on T-shirts and metaphorically hung around her neck.
In a speech in Baltimore, Trump himself said Clinton "divides people into baskets as though they were objects, not human beings" and that she could not credibly seek the presidency if she did not "retract her comments in full."
But now, as Trump seeks re-election, he's using vicious terms to demean fellow Americans by geography, political affiliation and — to all but a limited set of ears — skin color. Unlike Clinton, who called out racists, xenophobes, homophobes and Islamophobes specifically, Trump's not pausing mid-stereotype to bother with fractions — like half his opponents — or to qualify who he's talking about.
"You've got to be pretty ignorant to say that that's not racist," Tony Jaafar, 50, of Northville Township, Michigan, said of Trump's recent remarks about lawmakers of color and residents of Baltimore. He drew a distinction between Clinton's commentary on some Trump voters and Trump's recent attacks.
"She was going after the [white] majority," said Jaafar, a second-generation American of Lebanese descent. "It reflects on him a lot more negatively. He goes after the minorities."
That's manifested itself most recently in an ongoing Twitter diatribe against Rep. Elijah Cummings, D-Md., Cummings' 7th Congressional District and the city of Baltimore. But it's also been evident in his attacks on four congresswomen of color nicknamed "the squad" and policy decisions his administration has made that play into white frustration with government benefits going to people of color.
Jaafar said he was a longtime Republican, but can't vote for Trump. After sitting out the general election in the last presidential race, he's keeping his eye on the Democratic primary this time, hoping that it's won by Joe Biden, Bernie Sanders or Pete Buttigieg.
And there's reason to think the views of voters here could matter in 2020. In Northville Township, Trump prevailed with 48.8 percent of the vote to Clinton's 45.5 percent as he took Michigan by less than 11,000 votes in 2016. But the township flipped in the 2018 midterms, favoring the Democratic winners in House, Senate and governor races.
Dan Eberhart, a major GOP donor, said there's not much difference between Trump's derision of Americans and Clinton's "basket of deplorables" formulation.
"One targets a specific geography. Otherwise, nothing," he said. "I would rather see Trump challenge Congressman Cummings to a duel than see the [Republican National Committee] defend an anti-Baltimore policy."
By now, it's clear that Trump's targeting of lawmakers of color is a political strategy rather than an accident, and that most Americans find it to be racist.
A Fox News poll released last week found that 63 percent of respondents found his tweets about the congresswomen — Reps. Rashida Tlaib, D-Mich., Alexandria Ocasio-Cortez, D-N.Y., Ilhan Omar, D-Minn., and Ayanna Pressley, D-Mass. — "crossed the line," that 56 percent said it is racist to tell people of color to "go back" to their country and that 57 percent think Trump does not respect racial minorities.
Trump's I'm-not-the-racist-you're-the-racist response has been as repetitive as it has been predictable. He's accused every Democrat he can conjure of playing the "race card" against him and called Cummings "racist."
It's not just Trump. His campaign has steadfastly supported his commentary, as have White House officials, from senior policy adviser Stephen Miller to acting chief of staff Mick Mulvaney.
Mulvaney, a former South Carolina congressman, accused Fox News Sunday host Chris Wallace of "reading between the lines" to note that Trump tweeted about lawmakers of color.
Mulvaney, who has consistently pushed for major cuts to federal programs that benefit the poor as a House member and now as a top administration official, asserted that he would have been thrown out of office by his constituents if he'd acted like Cummings.
"I was in Congress for six years. If I had poverty in my district like they have in Baltimore ... and I spent all of my time in Washington, D.C., chasing down this Mueller investigation, this bizarre impeachment crusade, I'd get fired," said Mulvaney, who pressed for years of hearings on the Benghazi attacks that killed Americans in Libya.
The poverty rate in Mulvaney's old district, South Carolina's 5th, is 14.9 percent, according to the Census Bureau, which is both higher than the national average of 12.3 percent and not much lower than the 16.6 percent in Cummings' district. Poverty rates in many Republican-held, white-majority districts in the rural South and across Appalachia have poverty rates that are significantly higher.
For example, in Kentucky's 5th District, which has represented by former House Appropriations Committee Chairman Hal Rogers since 1981, the poverty rate is 28.1 percent. One of the state's senators is Majority Leader Mitch McConnell, who regularly wins praise from Trump, and the other is Trump golfing partner Republican Rand Paul.
Even in Mulvaney's old district, there are pockets of extreme destitution. The child poverty rate in the Fairfield school district in South Carolina's 5th District is the same as in Rogers' congressional district: 28.1 percent. At the same time, the Trump administration is proposing a new rule, backed by the White House, that would deny eligibilityfor half a million kids who qualify for free meals at school, and Mulvaney long has been at the forefront of the White House's efforts to slash federal spending on food for the impoverished.
Of course, individual members of Congress aren't directly responsible for poverty rates, homelessness or crime rates in their districts. They aren't mayors or governors.
But the point isn't to improve conditions in Baltimore — or any other place in the country — according to Charlie Sykes, an MSNBC contributor and founder of The Bulwark.
"Look, the strategy here is to divide the country on racial lines, to divide the country between rural and urban, and Republicans either support that strategy or they are simply afraid to stand up to this president," Sykes told MSNBC's Andrea Mitchell. "I think it's a combination of that."