Highest ranking House Democrat yet calls for impeachment of Trump
Comments
By Alex Moe and Leigh Ann Caldwell with NBC News Politics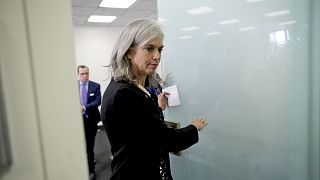 Copyright

Andrew Harnik AP file

-
Rep Katherine Clark, D-Mass., became the highest ranking House Democrat to call for opening an impeachment inquiry into President Donald Trump.
"I deeply respect the committee work of House Democrats to hold the President accountable, including hearings, subpoenas and lawsuits. All of our efforts to put the facts before the American people, however, have been met with unprecedented stonewalling and obstruction," the sixth ranking House Democrat said in a statement Thursday evening, adding "that is why I believe we need to open an impeachment inquiry that will provide us a more formal way to fully uncover the facts."
Clark made the announcement the day after the former Special Counsel Robert Mueller testified before two House committees about his report looking into Russia's interference in the 2016 election, any potential coordination with the Trump campaign and subsequent efforts to obstruct Mueller's investigation.
Politics
"Since the release of the Mueller Report in April, it has been clear that the President committed impeachable offenses by welcoming interference from a hostile foreign power in the 2016 election and then attempting to obstruct the investigation into his unpatriotic actions," Clark wrote in her statement. "Moreover, he said he would do it all again if given the chance."
Three other House Democrats have also publicly called for moving ahead with impeachment since Mueller's testimony - Rep. Lori Trahan (MA), Rep. Peter DeFazio (OR) and Rep. Lisa Blunt Rochester (DE) - which takes the NBC News tally to 93 House Democrats and one Independent.
There has been an active discussion for several months inside the Democratic caucus on if a formal inquiry should be launched.
On Wednesday night, following Mueller's testimony before the House Judiciary and House Intelligence Committees, House Democrats met for a closed-door caucus meeting where they discussed ways that impeachment could happen.
Speaker Nancy Pelosi again advocated for continuing the House investigations into the president to gather the facts and to pursue litigation to make the strongest case they can if they decide to impeach. She said, more clearly than she ever has in the past, that each member can decide on impeachment based on their own conscience and constituents.
Clark said in her statement today that "an impeachment inquiry is a process, not an outcome, but I fear there is no amount of wrongdoing that we could uncover that would convince Senate Republicans to hold the President accountable."