Republican senator joins Dem calls for answers on ICE solitary confinement
Comments
By Andrew W. Lehren with NBC News Politics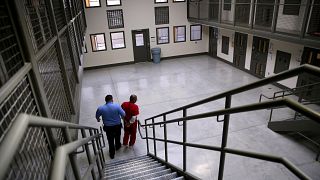 Copyright

John Moore Getty Images file

-
A Republican senator is now asking U.S. Immigration and Customs Enforcement for answers on the agency's use of solitary confinement for detained immigrants.
"It is imperative that ICE swiftly resolve any lacking oversight or improper documentation pertaining to the use of segregation," wrote Sen. Chuck Grassley, R-Iowa, in a joint letter with Sen. Richard Blumenthal, D-Conn., to ICEdated July 24.ICE refers to solitary confinement as segregation.
The inquiry marks the first time a Republican has raised concerns about ICE and solitary confinement since the broadcast and publication in May of an NBC News investigation, in partnership with the International Consortium of Investigative Journalists and the Intercept, documenting thousands of instances when ICE detainees were put in solitary confinement. Blumenthal and several other Congressional Democrats have already raised concerns publicly.
The NBC News probe documented a range of questionable practices, including how dozens of detainees were put in solitary confinement simply because they suffered from physical disabilities and needed a prosthetic leg, a cane or a wheelchair. Detainees with mental illnesses were put in solitary, often for weeks or months. LGBT detainees were also routinely put in isolation solely because of their sexual orientation. Only half the time were detainees put in solitary because of disciplinary violations, according to ICE records.
The reporting was based on ICE documents and data obtained through Freedom of Information requests.
In their letter, the senators cited reporting by NBC News and its partners, along with Department of Homeland Security Inspector General audits, that found "serious deficiencies" in ICE's oversight of solitary confinement.
They asked ICE to report on the number of times the agency has recently put detainees into solitary confinement, how it ensures isolation is used appropriately and how it monitors the use of solitary confinement.
Grassley previously raised concerns four years ago with then-Sen. Al Franken, D-Minn., pressing ICE on how the agency put detainees with mental illnesses and medical concerns in isolation.
Blumenthal has separately called for Senate hearings. Two other Democratic senators, Elizabeth Warren and Cory Booker — both presidential contenders — have also raised concerns. Warren has asked ICE a series of questions while Booker, a member of the Senate Judiciary Committee, which oversees ICE, has called for hearings.
ICE did not immediately respond to a request for comment.