Mueller delivered impeachment bread crumbs to Democrats
Comments
By Jonathan Allen with NBC News Politics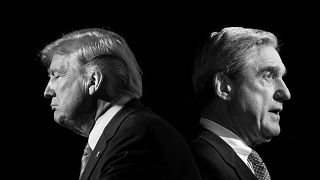 Copyright

Adrian Lam NBC News; Getty Images

-
WASHINGTON — There was no made-for-TV moment, but former special counsel Robert Mueller still delivered plenty of bread crumbs for Democrats who want to follow the politically risky trail toward an impeachment of President Donald Trump.
A grizzled G-Man out of the central casting era dropped anachronistically into the viral-clip moment of cable-televised clapbacks, Mueller immediately dispelled the notion that he had cleared the president of wrongdoing.
"No," he said when House Judiciary Committee Chairman Jerrold Nadler asked if he had totally exonerated the president, as Trump has frequently claimed.
Then, over the course of seven hours, testifying before two committees, he would intimate that there was evidence of conspiracy between Russia and Trump's 2016 campaign, acknowledge with the simple word "true" that he found it unethical and wrong for a campaign to accept assistance from a hostile foreign power, and repeatedly suggest strongly that the president obstructed justice.
For all the star power Mueller lacked, he offered up just as much in the way of substance.
But if Democrats want to impeach Trump, they're going to have to take his work, build on it, prove the case — and hope it doesn't blow up in their faces politically.
"Some number of Democrats will now feel that they have confirmation to proceed to support impeachment and some others will continue to hold back," said Rep. Gerry Connolly, D-Va. "I don't think it will be a dramatic breaking of the dam. But there are Democrats who were waiting to hear on this. ... This can give them some comfort in the confirmations [of the report's findings]."
The political question, with House Democrats headed to their home districts for an August recess, is whether their constituents — the folks lawmakers speak with at fundraisers, town hall meetings and grocery stores — now apply accelerant to the impeachment movement or extinguish it. Those voters will have a little bit more to work with now that Mueller has testified than they did after he released his 448-page report in April, but the roadmap to impeachable offenses still requires the willingness to take a thorough look.
The hearings may have reached outside the Beltway and the small percentage of Americans who had already read the report.
"Hearing Mueller say what he said blew me away," Ohio state Rep. Tavia Galonski, a Democrat who represents a district near Akron where Trump is popular, said in a telephone interview.
"I thought it was damning," said Galonski, who had not read the report but was glued to the hearings Wednesday.
Still, Mueller didn't make it easy. Like a courtroom witness determined not to give any advantage to the cross-examiner, his answers were clipped — often limited to a single word — whether he was being questioned by Republicans or Democrats.
All together, and Mueller's narrative-less testimony had to be assessed in toto or not at all, the special prosecutor defended the contents of a report that Democrats have long held laid out a breathtaking effort by Trump to solicit and accept the help of a hostile foreign government to tip the 2016 election in Trump's favor and then cover up the whole operation.
In some cases, he gave stronger hints of wrongdoing by the president.
He told House Judiciary Committee Chairman Jerrold Nadler that he didn't come to a conclusion about whether the president had obstructed justice because of a Justice Department Office of Legal Counsel memo prohibiting prosecution of a sitting president.
Indeed, in his opening statement, Mueller had alluded to that, saying "based on Justice Department policy and principles of fairness, we decided we would not make a determination as to whether the president committed a crime."
When Nadler asked Mueller what he would say, either in his report or testimony if he had concluded the president committed a crime, his answer echoed that: "the statement would be that you would not indict and you would not indict because, under OLC opinion, a sitting president cannot be indicted."
There's a difference between determining a crime has been committed and deciding to prosecute — FBI Director Jim Comey declined to prosecute Hillary Clinton but refused to say she had not committed a crime — and yet it's a thin line.
Later, under questioning from Rep. Ted Lieu, D-Calif., Mueller initially agreed to the assertion that Trump was not indicted on obstruction charges only because of the OLC memo — a position he later clarified by saying, "we did not reach a determination as to whether the president committed a crime."
But perhaps more importantly, Mueller didn't push back on the idea that the president obstructed justice.
He also gave pro-impeachment Democrats another avenue for further investigation.
Mueller told the House Intelligence Committee that his failure to bring conspiracy charges against Trump and members of his campaign operation did not mean he had found no evidence of such a conspiracy.
"Absolutely correct," he said when Rep. Peter Welch, D-Vt., asked him about that.
And later, with the simple repetition of the word "true," Mueller agreed with Intelligence Committee Chairman Adam Schiff, D-Calif., that it is "unpatriotic" and "wrong" to knowingly accept election assistance from a foreign power. He also said public officials should be held to a higher standard than whether their behavior is technically criminal.
That's a matter Democrats will grapple with as they decide whether to proceed toward charging the president with the ill-defined "high crimes and misdemeanors" of an impeachment process that is inherently political.
Mueller wasn't willing to go much further in leading them to a conclusion.
If he was there as an advocate for anyone or anything, it was the work product that he and his team of lawyers and investigators produced. Rather than interpreting it, he chose to refer to it as a literalist.
He parried questions from both Republicans — who tried, in turns, to discredit him, his staff and his work — and Democrats, who tried to push him to connect the pieces of his report into a clear narrative story that could be used for greater political effect.
"Well, of course we want more," Rep. Sean Patrick Maloney, D-N.Y., said on MSNBC. "But it's quite significant what he said."