Migrant child alleges she was 'beaten and abused' at Clint, Texas border station
Comments
By Julia Ainsley and Jacob Soboroff with NBC News Politics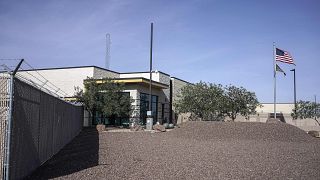 Copyright

PAul Ratje AFP - Getty Images

-
WASHINGTON — Customs and Border Protection's internal watchdog is investigating an allegation of physical abuse by a female child migrant while in custody in Clint, Texas, according to documents provided to Congress by the Department of Homeland Security and obtained by NBC News.
The alleged abuse was reported on March 12 of this year when the girl reported she was "beaten and abused" while in custody, according to the documents, which do not provide the name of the child, her age, or any other details about the incident.
As of July 9, the incident was still under open investigation by CBP's Office of Professional Responsibility.
Democratic members of the House Judiciary Committee are expected to ask about the incident in a hearing on Thursday, where numerous officials from the Border Patrol, Department of Health and Human Services and the Department of Justice are expected to appear as witnesses.
The allegation under investigation follows several other reports of misconduct and abuse by CBP officers against minors detained in border stations. In Yuma, Arizona, a 15-year-old girl reported being sexually assaulted during what was supposed to be a routine pat down. Also in Yuma, a 17-year-old boy witnessed an officer punching another boy in the stomach, according to the account he gave NBC News. The Washington Post reported that a border agent in Clint harassed a mother of a 12-year-old by forcing her to watch the agent perform sexual acts.
Chief Aaron Hull, who has been in charge of the El Paso Sector, including Clint, will be reassigned to Detroit on Monday, according to documents obtained by NBC News.
A spokeswoman for CBP said the agency is unable to comment on an open investigation. The Department of Homeland Security did not immediately respond to a request for comment.