2020 candidates say Mueller's already made the case for impeachment
Comments
By Dareh Gregorian with NBC News Politics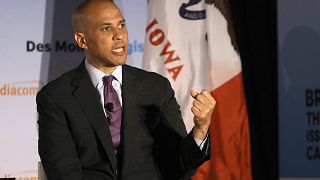 Copyright

Justin Sullivan

-
As former special counsel Robert Mueller testified in the House about his report on Russian interference in the 2016 presidential campaign, Democratic presidential candidates used his report to call for impeachment proceedings against President Donald Trump.
Speaking at the NAACP convention in Detroit Wednesday, senators and 2020 candidates Elizabeth Warren and Cory Booker said Mueller had already laid out a persuasive case that the president had broken the law by trying to obstruct Mueller's probe.
While some House Democrats said they were hoping to use Mueller's testimony to build a stronger public case for impeachment, Warren said that time is already here.
"I understand that there are people who for political reasons say it's not where we want to be. But my view is some things are above politics," Warren told the crowd. "...This is a moment in history and every single person in Congress should be called on to vote and then to live with that vote for the rest of their lives."
The Massachusetts senator told reporters afterward that "the Constitution is clear. No one is above the law, and that means the president of the United States. I believe it's time for Congress to bring articles of impeachment against this man."
Booker, D-N.J., said he believed the Mueller report spelled out behaviors of "deceit" and "instructing people to lie" and gave enough of an indication that the House should begin impeachment proceedings.
South Bend, Indiana Mayor Pete Buttigieg told reporters at the event he was also in favor of beginning impeachment proceedings, but cautioned they'd likely hit a roadblock in the Republican Senate.
"Well, we'll see what the testimony reveals but there is more than enough in that report to interpret it as an impeachment referral," Buttigieg said. "I believe that an impeachment inquiry would bring more facts to light. I also believe that the Republican senate will not act. And so I'm focusing on the best thing I can do about the Trump presidency which is to defeat it in November of 2020."