Trump to conservative teens: Rep. Tlaib is a 'crazed lunatic'
Comments
By Lauren Egan with NBC News Politics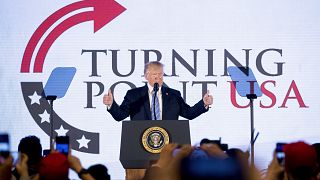 Copyright

Andrew Harnik AP

-
WASHINGTON — President Donald Trump attacked Rep. Rashida Tlaib, D-Mich., on Tuesday, telling a gathering of young conservatives that the lawmaker was a "crazed lunatic."
"There's no way she stands for the values of the people of Michigan," Trump said of Tlaib, within the first few minutes of his speech at Turning Point USA's Teen Student Action summit here. "She's vicious, she's like a crazed lunatic."
Trump's continued slams on Tlaib drew loud cheers from the crowd of high school students gathered in a Marriott hotel ballroom in downtown Washington.
"I believe they hate our country, okay? I believe they hate our country," Trump said, alluding to Tlaib's colleagues Rep. Alexandria Ocasio-Cortez, D-N.Y., Rep. Ilhan Ohmar, D-Minn., and Rep. Ayana Pressley, D-Mich., who have been dubbed "The Squad."
"This is representing us? This is not what we want representing us, I don't think, and I think it's why we're going to have a tremendous victory in 2020. These people are crazy," he continued.
Trump claimed that Ocasio-Cortez called the United States "garbage" and argued that it was worse than referring to some of his supporters as "deplorable."
"She said 'garbage.' That's worse than 'deplorable.' Remember 'deplorable?'" he said, referencing comments Hillary Clinton made about some Trump supporters during her 2016 campaign.
Ocasio-Cortez did not use the term to refer to the U.S. or to Americans, but the alleged impact on the country of existing policies she does not support. "I think all of these [progressive ideas] sound radical compared to where we are. But where we are is not a good thing," she said at the South by Southwest festival earlier this year. "This idea of 10 percent better from garbage shouldn't be what we settle for. It feels like moderate is not a stance, it's just an attitude toward life of like, 'meh.'"
Trump, who has implied he will not be watching special counsel Robert Mueller's congressional testimony in full on Wednesday, briefly alluded to the highly anticipated event during his speech on Tuesday.
"Then I have an Article Two, where I have the right to do whatever I want as president," Trump said, referring to the section of the U.S. Constitution describing the powers of the executive branch. "But...I don't even talk about that."
Trump also congratulated Boris Johnson, known for his support of Brexit, for winning the party leadership contest earlier in the day which means he will serve as the next prime minister of the United Kingdom.
"We have a really good man who is going to be the prime minister," Trump said. "Boris is good, he's going to do a good job."