Senate to vote on 9/11 first responders' bill Tuesday
Comments
By Dareh Gregorian with NBC News Politics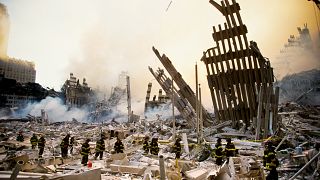 -
Copyright

Porter Gifford Corbis via Getty Images file
The Senate is expected to pass a bill Tuesday that would ensure a fund to compensate victims of the Sept. 11 attacks never runs out of money.
The vote, expected at about 3:30 p.m., comes after intense lobbying from ailing 9/11 first responders — including one who died shortly after testifying before Congress last month.
The bill would authorize money for the fund through 2092, essentially making it permanent.
Before final passage, the chamber is expected to vote on two proposed amendments to the bill. One, from Sen. Mike Lee, R.-Utah, would restrict the authorization to 10 years; the other, from Sen. Rand Paul, R-Ky, would require offsets for the money spent on the fund.
The bill passed the House by a vote of 402-12 earlier this month, but Paul objected when Sen. Kirsten Gillibrand, D-N.Y., sought to get the legislation passed in the Senate by unanimous consent last week. Lee also reportedly placed a procedural hold on the legislation, which the Congressional Budget Office has estimated would result in about $10.2 billion in additional payments over the next decade.
Paul called for the spending to be offset with cuts, citing the government's $22 trillion debt.
That led comedian Jon Stewart — a fierce advocate for the first responders — to rip the senator as a hypocrite.
"Pardon me if I'm not impressed in any way by Rand Paul's fiscal responsibility virtue signaling," the former "Daily Show" host told Fox News, noting that Paul supported President Donald Trump's tax cut that "added hundreds of billions of dollars to our deficit."
Stewart also blasted Congress as a whole when he testified before a House committee on the issue last month, slamming lawmakers for requiring the act to be reauthorized, resulting in ailing first responders having to make repeated trips to the Capitol.
Stewart testified alongside cancer-stricken former New York police detective Luis Alvarez, who was scheduled to undergo his 69th round of chemotherapy the next day. Alvarez said the fund had given him a fighting chance against cancer, and he wanted to ensure other victims who were stricken by the toxic smoke from the smoldering remains of the World Trade Center had the same opportunity.
"My life isn't worth more than the next responder to get cancer," he said.
He died less than three weeks later at age 53.
The bill, which now includes Alvarez's name, is expected to pass the Senate by a wide margin — it has 74 Senate co-sponsors — and quickly be signed into law by the president.
Hours before the vote was scheduled to take place, victims' advocate and first responder John Feal told NBC News he "just got a call from the White House" inviting him and other 9/11 first responders and their families to the White House for a bill signing Friday afternoon.