Nadler says Mueller should ignore DOJ 'cover-up' efforts on testimony
Comments
By Allan Smith with NBC News Politics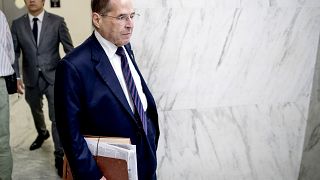 Copyright

Andrew Harnik AP file

-
House Judiciary Committee chairman Jerrold Nadler, D-N.Y., said on Tuesday that former special counsel Robert Mueller should ignore Justice Department attempts to stifle his highly anticipated congressional testimony, referring to their efforts as "part of a cover-up."
On Monday, Associate Deputy Attorney General Bradley Weinscheimer wrote a letter instructing Mueller not to provide any testimony regarding the redacted portions of his report. Mueller had already said he would not go beyond the content contained within his more than 440-page report during his public testimony.
The letter also stated that "any testimony must remain within the boundaries of your public report because matters within the scope of your investigation were covered by executive privilege."
Nadler told CNN Tuesday that he didn't believe that letter was an impediment to Mueller's testimony, adding that the instruction to do so is "a part of the cover-up of the administration to keep information away from the American people."
"But I think it's not going to have a real impact," he said.
Asked if Mueller must comply with the letter, Nadler said the former special counsel does not.
"He doesn't work for them," Nadler said. "And that letter asks things that are beyond the power of the agency to ask even if he still worked there."
Mueller will testify Wednesday in separate sessions before the House Judiciary and Intelligence Committees. In May, Mueller said if he were to testify before Congress that "testimony from this office would not go beyond our report."
"We chose those words carefully, and the work speaks for itself," he added. "The report is my testimony. I would not provide information beyond that which is already public in any appearance before Congress."
A spokesman for Mueller, Jim Popkin, told NBC News on Monday that the former special counsel will give a brief opening statement before offering the entire report as his full statement for the record.
A Democratic House Intelligence Committee aide told NBC News last week that Chairman Adam Schiff, D-Calif., does not "subscribe" to the belief that Mueller is required to "stay within the four corners" of the report.
But a Democratic House Judiciary aide also told NBC News last week that even if Mueller doesn't go beyond the report, "we think that limitation … can be worked through because there really is such strong language throughout the report even if they didn't bring it all together in a way that connects it all, to the to the ultimate conclusion."