How Mueller's testimony could reverberate in 2020
Comments
By Chuck Todd and Mark Murray and Carrie Dann with NBC News Politics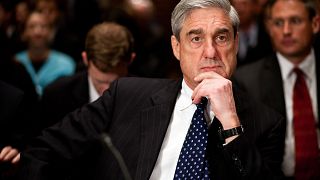 Copyright

Brendan Hoffman Getty Images file

-
WASHINGTON — Robert Mueller's congressional testimony on Wednesday could very well turn out to be a dud for Democrats.
But it also represents their last best chance at selling the middle of the electorate that Mueller's report contains damaging information about President Trump and his team.
"While America's political class has been obsessively following the two-year investigation into Russia's efforts to help Trump win the presidency, most of the country has not," NBC's Ken Dilanian writes.
"Polls show that as few as 10 percent of Americans have read any part of special counsel Robert Mueller's 448-page report — and that the news coverage of the report's release did not change what has long been a partisan split verdict on Trump and Russia."
The April/May 2019 NBC/WSJ poll - conducted after Mueller's full report became public - found 29 percent of Americans saying it cleared the president of wrongdoing, while 42 percent disagreed, saying it did NOT clear him.
But another 29 percent said they were unsure.
So there is a good chunk of the electorate that hasn't necessarily made up their minds here.
Yet Dilanian also reminds us that Republican members will have the opportunity to muddy the waters during Mueller's testimony.
"Republicans plan to spend their half of the two hearings attacking the premise of the investigation and highlighting what they and their base have come to believe, without evidence, is FBI misconduct at the heart of the probe," he says.
But if Mueller is remotely damning against Trump and company, will Democrats be able to resist the impeachment question, especially what's transpired over the last week ("Send her back")?
Democrats, White House reach budget deal
White House and congressional leaders on Monday night announced they struck a deal that "would suspend the debt limit until July 31, 2021, and put an end to automatic spending cuts that would have kicked in without a deal," per NBC's Capitol Hill team.
President Trump tweeted his endorsement (at least we think it was an endorsement):
"I am pleased to announce that a deal has been struck with Senate Majority Leader Mitch McConnell, Senate Minority Leader Chuck Schumer, Speaker of the House Nancy Pelosi, and House Minority Leader Kevin McCarthy — on a two-year Budget and Debt Ceiling, with no poison pills...."
But as some observers have pointed out, a deal that suspends the debt limit until July 2021 means it's conceivable that a Dem president would have to work with Republicans to raise it during his/her first few months in office.
2020 Vision: A Warren/Bernie win means a Senate loss — at least temporarily
The two Democratic presidential contenders with the boldest plans — Elizabeth Warren and Bernie Sanders — share this potential situation:
If they win the White House, their party loses a Senate seat. At least in the short run.
As one of us writes, both Massachusetts and Vermont have Republican governors, who would get to appoint someone (even from their party) to temporarily fill a Senate vacancy.
Then there's the delay: Both states would have special elections that take place months after vacancy, which means a President Warren or Sanders could be down one Senate Dem during their honeymoon phase.
And then there's the worst-case scenario: Could a Republican, a la Scott Brown, win a special in Massachusetts or Vermont?
On the campaign trail today
John Hickenlooper remains in Iowa… Joe Biden is in New Orleans… Elizabeth Warren attends a union rally at Reagan National Airport outside of DC… And Jay Inslee campaigns in California.
Dispatches from NBC's embeds
Kirsten Gillibrand spoke Monday at a town hall in New York City, where she addressed the New Yorker article about former Sen. Al Franken, and her decision to support his resignation. NBC's Benjamin Pu reports Gillibrand's response: "Senator Franken wasn't denied anything. It's his decision and his alone whether to wait out his ethics committee hearing, whether to wait for his next election. The decision I made was whether or not to carry his water and stay silent. And given eight allegations, two since he was senator, and the eighth one being a Congressional staffer, I couldn't stay silent."
John Hickenlooper said that he would not immediately grant citizenship to undocumented immigrants. NBC's Priscilla Thompson reports: "There has to be some punishment and delay, significant delay on that," he said - acknowledging he does support a path to citizenship. He also came down hard on businesses that employ undocumented immigrants. "We are a country of laws," Hickenlooper said. "The conservative right and the liberal left don't want to hold businesses accountable."
Speaking of Hickenlooper, he's up with a new digital ad introducing himself (and that debate over hazy IPAs versus pastry stouts).
Data Download: The number of the day is … 66 percent
Sixty-six percent.
That's the share of Americans who say that it's a BAD idea to decriminalize illegal border crossings — a policy proposal backed by many of the 2020 Democratic candidates — according to a new NPR/NewsHour/Marist poll.
Another 62 percent say it's a bad idea for a national health insurance program to be made available to people who are in the U.S. illegally.
Tweet of the day
The Lid: Come together
Don't miss the pod from yesterday, when we looked at some of the policy proposals that Americans DO agree on.
ICYMI: News clips you shouldn't miss
Boris Johnson is set to be the U.K.'s new prime minister.
Joe Biden is planning to release a new criminal justice plan that reverses part of the 1994 crime bill.
Over 500,000 protesters called for the ouster of Puerto Rico Gov. Ricardo Rosselló at Monday's protests.
Two Louisiana police officers have been fired after a Facebook post that suggested that Alexandria Ocasio-Cortez should be shot.
Al Franken says he "absolutely" regrets resigning.
Trump agenda: Deal struck
Congress has reached a two-year deal on the federal budget.
Trump says he might watch "a little" of Mueller's testimony.
NBC's Ken Dilanian writes that Democrats are hoping Robert Mueller's testimony sways swing voters.
And DOJ has told Mueller not to answer a wide variety of questions in his testimony.
2020: Biden picks up more endorsements
Kamala Harris is teaming up with Jerry Nadler on a marijuana bill.
The AP reports on how Bernie Sanders is working around what he says is unfair media coverage.
Biden won the endorsement of the mayor of Detroit — and he's got the backing of his sixth CBC member.
House Democrats are outpacing Republicans in fundraising.
The Washington Post has more background on that job Hunter Biden had with a Ukrainian gas company.