Gillibrand: 'Outrageous' to blame her and women senators for Franken
Comments
By Allan Smith with NBC News Politics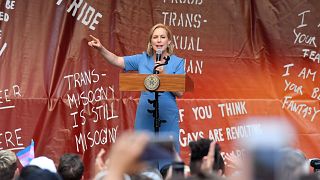 Copyright

Angela Weiss AFP - Getty Images

-
Sen. Kirsten Gillibrand, D-N.Y., said Monday that she had no regrets about calling for then-Sen. Al Franken, D-Minn., to resign over sexual misconduct allegations.
Her quotes followed a New Yorker story in which seven current or former Democratic senators expressed regret for calling on him to resign in 2017. Gillibrand was the first senator to come forward.
At an event in New York on Monday, Gillibrand said she "could have told" those who now regret pushing for Franken's ouster that "there is no prize for someone who tries to hold accountable a powerful man who is good at his day job."
"But we should have the courage to do it anyway," she said, adding, "So no. I do not have any regrets."
"Let's be clear, there is absolutely a double standard," Gillibrand continued. "Women are asked to hold accountable their colleagues; the men are not. Who is being held accountable for Al Franken's decision to resign? Women senators, including me. It's outrageous. It's absurd."
Gillibrand's presidential campaign has failed to gain traction in the 2020 primary season's early months, and some on the left have blamed her for Franken's exit.
"I'd do it again today," Gillibrand told The New Yorker. "If a few wealthy donors are angry about that, it's on them."
Meanwhile, Franken told The New Yorker that he "absolutely" regrets resigning from the Senate in early 2018 after several women accused him of sexual harassment.
The New Yorker's story calls into question the first of the allegations, from conservative talk radio host Leeann Tweeden. Tweeden released a 2006 photo of Franken reaching toward her breasts as if to grope her while the two were on a USO tour. She also said he forcibly kissed her.