House to vote today on impeachment resolution against Trump
Comments
By Alex Moe and Jane C. Timm with NBC News Politics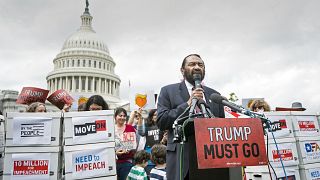 -
Copyright

Bill Clark CQ-Roll Call,Inc.
The House will vote on Wednesday on a resolution to impeach President Donald Trump, marking the first time the Democrat-controlled chamber has weighed in on the divisive issue.
It's unclear whether the House will vote to send the resolution to committee, to table it — effectively killing the measure — or vote to proceed forward with it.
Rep. Al Green, D-Texas, forced the vote by reading the articles of impeachment on Tuesday night; he told reporters a vote will happen Wednesday afternoon. A Democratic leadership aide confirmed to NBC News the vote would occur.
Green cited Trump's recent racist remarks about four Democratic congresswoman of color, which the House voted to condemn yesterday, as cause for seeking his removal from office.
"President Donald Trump's racist comments that have legitimatized and increased fear and hatred of new Americans and people of color," Green said Tuesday night on the House floor. "Donald John Trump, by causing such harm to the society of the United States, is unfit to be president and warrants impeachment, trial and removal from office."
Green has been gunning to impeach Trump for — his latest effort is his third attempt. He most recently offered articles of impeachment when Republicans controlled the House back in January 2018, after the president derided immigrants from Haiti and some African countries. The House voted to table that resolution, with 121 Democrats joined 234 Republicans to effectively kill the measure.
More than 80 members of the Househave called for opening an impeachment inquiry, but some Democratic leaders have resisted, fearing that it would distract from the party's policy agenda, could rally Trump's base, isn't popular with the public and is doomed to fail in the Republican-controlled Senate.
A recent NBC News/Wall Street Journal pollfound that enthusiasm for impeachment may be waning: The July survey found 21 percent of registered voters say that there is enough evidence for Congress to begin impeachment hearings now. In June, 27 percent in the poll the same thing, a 6-point drop in one month — though that survey was of Americans, not registered voters.