Racial division is a hallmark of Trump's presidency
Comments
By Chuck Todd and Mark Murray and Carrie Dann with NBC News Politics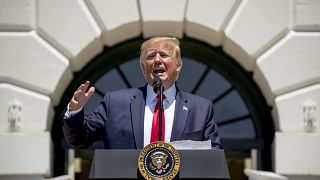 Copyright

Andrew Harnik AP

-
WASHINGTON — Every few months, we get another reminder of how race has been one of the dominant storylines of Donald Trump's political rise and his time in office.
And that's what we got on Sunday, when the president tweeted that that Reps. Alexandria Ocasio-Cortez, Rashida Talib, Ilhan Omar and Ayanna Pressley should "go back and help fix the totally broken and crime infested places from which they came."
He followed that up on Monday by saying these four progressive women of color "hate our country."
To recap how Trump has stoked racial flames — or poured gasoline on them:
He led the "birther" crusade against Barack Obama, questioning whether the nation's first African-American president was born in the United States.
He kicked off his 2016 presidential announcement talking about Mexican rapists. ("They're sending people that have lots of problems, and they're bringing those problems with us. They're bringing drugs. They're bringing crime. They're rapists. And some, I assume, are good people.")
He said a U.S. federal judge had a conflict of interest in presiding over a case involving Trump because of the judge's "Mexican heritage."
As president, he referred to Haiti and African nations as "shithole" countries.
He talked about "very fine people, on both sides" in response to the unrest in Charlottesville, Va.
He questioned LeBron James' intelligence.
And he did the same to Rep. Maxine Waters, D-Calif.
It's hard to disagree with the Washington Post's Greg Sargent: The more often Trump makes these statements — without being called out by a large segment of his party and supporters — he's asserting "the right to engage in public racism without it being called out as such."
And as George Conway — the husband of White House adviser Kellyanne Conway — writes in the Washington Post, "Trump is not some random, embittered person in a parking lot — he's the president of the United States. By virtue of his office, he speaks for the country."
Beto's awful 2nd quarter
In his first 18 days as a presidential candidate, Beto O'Rourke raised $9.4 million, including $6.1 million in his first 24 hours.
Three months later, however, O'Rourke reports raising just $3.6 million for the second quarter — essentially half of what he raised in his first day.
On top of it all, O'Rourke had one of the highest burn rates (raised/spent) for the second quarter: 146 percent.
O'Rourke still has time to turn his campaign around. But his last three months as a candidate have been dreadful — whether it's been in the polls, the fundraising or his first debate performance.
Tweet of the day
Breaking down the 2nd quarter numbers
Here's everything you need to know in one place, per NBC's Ben Kamisar and Melissa Holzberg:
Total contributions (includes only donations from individuals — not from the candidates themselves or transfers from other accounts):
Buttigieg: $24.9 million (was $7.1 million last quarter)
Biden: $22 million
Warren: $19.1 million (was $6 million)
Sanders: $18 million (was $18.2 million)
Harris: $11.8 million (was $12 million)
Booker: $4.5 million (was $5 million)
Klobuchar: $3.9 million (was $5 million)
O'Rourke: $3.6 million (was $9.4 million)
Inslee: $3.0 million (was $2.3 million)
Yang: $2.8 million (was $1.8 million)
Castro: $2.8 million (was $1.1 million)
Bennet: $2.8 million
Gillibrand: $2.3 million (was $3 million)
Bullock: $2.0 million
Gabbard: $1.6 million (was $2 million)
Williamson: $1.5 million (was $1.5 million)
Hickenlooper: $1.1 million (was $2 million)
De Blasio: $1.1 million
Ryan: $865,000
Delaney: $284,000 (doesn't include $7.75 million transfer)
Cash on hand:
Sanders: $27.3 million
Buttigieg: $22.7 million
Warren: $19.8 million
Harris: $13.3 million
Biden: $10.9 million
Gillibrand: $8.2 million
Klobuchar: $6.7 million
O'Rourke: $5.2 million
Burn rate (total spent divided by total receipts):
Gillibrand: 184 percent
O'Rourke: 146 percent
Hickenlooper: 143 percent
Gabbard: 122 percent
Booker: 117 percent
Inslee: 107 percent
Klobuchar: 107 percent
Harris: 64 percent
Warren: 55 percent
Sanders: 55 percent
Biden: 51 percent
2020 Vision: Breaking down the Dem health-care battle
"On the one side is [Joe] Biden, who is making the case that Democrats should retain the core structure of the Affordable Care Act, which subsidizes private insurance and Medicaid for Americans who don't get coverage from their employer or other government programs," NBC's Benjy Sarlin writes.
"On the other is [Bernie] Sanders, who has long called for guaranteeing every American coverage through a more generous version of Medicare and banning competing private plans."
On the campaign trail
Kirsten Gillibrand, Julian Castro and Kamala Harris speak at the AARP/Des Moines Register forum in Iowa… Joe Biden and Michael Bennet also campaign in the Hawkeye State… And Amy Klobuchar, in DC, delivers a speech on what would be her "First 100 Days" priorities.
Dispatches from NBC's embeds
Pete Buttigieg responded to the news of South Bend's police sergeant Ryan O'Neill, who was the officer involved in the South Bend shooting that left Eric Logan dead, resigning. NBC's Priscilla Thompson has Buttigieg's response: "Our efforts to strengthen trust between law enforcement and community members continue. We will await results of the independent criminal investigation, and apply any lessons learned to our work on the future of the Police Department and the community."
Also some staff change-ups: NBC's Thompson and Maura Barrett confirm that Cory Booker's Iowa senior adviser is leaving his campaign.
Plus, Kamala Harris discussed her racial identity on a podcast with The Atlantic's Jemele Hill.
NBC's Deepa Shivaram flags this Harris line: "It cannot be, as it always ends up being, that the couple of chocolate chips on the stage have to be the ones teaching everybody else about America's history. It's America's history."
Data Download: The number of the day is … nine
Nine.
That's the number of 2020 candidates who spent more than they raised in the second fundraising quarter.
Here are the burn rates (total spent divided by total receipts) for those candidates, per NBC's Ben Kamisar and Melissa Holzberg.
Booker: 116.94 percent
Gabbard: 122.38 percent
Gillibrand: 183.91 percent
Hickenlooper: 143.30 percent
Inslee: 107.45 percent
Klobuchar: 107.00 percent
O'Rourke: 145.66 percent
Williamson: 100.23 percent
Yang: 109.24 percent
The Lid: The more things change…
Don't miss the pod from yesterday, when we looked at a particular data point that just… seems… stuck.
ICYMI: News clips you shouldn't miss
Here's how the Trump administration is moving to end asylum protections for most Central American migrants (and how it will immediately face a legal challenge.)
Nancy Pelosi isn't happy with the White House's debt limit plan.
NBC's Courtney Kube notes that - over the next eight days - there will likely be four people transitioning in and out of the top two jobs at the Pentagon.
According to Tim Alberta's new book, Trump lashed out at "so-called Christians" after his "Two Corinthians" mistake in 2016.
Trump agenda: Trump's Twitter army
Only about 1 in 5 adult Twitter users in the U.S. follows @realDonaldTrump, per a new study.
2020
NBC's Marianna Sotomayor has a quick breakdown of what's in and what's out of Biden's health-care plan.
The Washington Post looks at Elizabeth Warren's work in the 1990s for Dow Corning when it faced lawsuits over faulty silicone breast implants.
The South Bend police officer who fatally shot a black man has resigned.
Kamala Harris has a new plan to combat prescription drug costs.
Bill de Blasio raised $1.1 million after his late entry into the 2020 race.
The Trump campaign is investing a lot in small donors - and it's paying off.