Watch: Sustainable fashion designers dominate the catwalk in Barcelona
Comments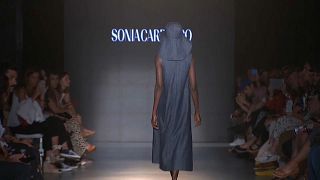 At the 080 Barcelona Fashion this year, sustainable was the new black.
Young designers eagerly showcased their ethically friendly creations on the catwalk with many brands opting to use materials made from recycled plastics.
Spanish swimwear company "All Sisters" use exclusively recycled fabrics to make their products. At the show this year, the brand made a bold anti-plastic statement. This initiative was prompted by a 2018 report which named Spain as the second-biggest plastic polluter of the Mediterranean Sea, after Turkey.
Experts in the fashion industry believe the move towards sustainability is here to stay. Fashion guru Charo Mora said: "There is a clear turning point in the fashion industry. At times it may look like it's just a marketing strategy, but there is an increasing change."
This push is coming from the demand of consumers as much as anything. Consultancy McKinsey & Company said at an Italian Fashion Chamber in March that as many as 70% of consumers were willing to pay a premium for items produced sustainably.
All-female company Sonia Carrasco is so vehemently anti-plastic that the designer named her newest collection, 33.394759-124.969482, using the coordinates of the so-called "Plastic Island" in the Pacific Ocean.
Carrasco, the brand's designer, vowed to name all future collections after environmental issues in order to increase consumer awareness. This year's collection is made entirely from either 100% organic fabric or 100% recycled plastic. Even the labels are made from garment production surplus.
For Carrasco, sustainability is the only way forward: "I think that being or not being sustainable in 2019 isn't an option but rather the thing to do. Seeing what is happening to our planet I don't think it makes sense creating a new brand that isn't eco-friendly."
The fashion industry is responsible for as much as 20% of global wastewater and 10% of global carbon emissions — that's more carbon emissions than all maritime shipping and international flights combined.