Labor Secretary Acosta to hold news conference after Epstein fallout
Comments
By Dartunorro Clark and Adam Edelman with NBC News Politics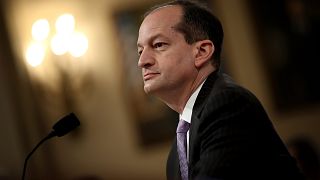 Copyright

Win McNamee Getty Images

-
Labor Secretary Alex Acosta will hold a news conference Wednesday afternoon following renewed scrutiny over his role in cutting a plea deal more than a decade ago for Jeffrey Epstein, the Labor Department announced.
Acosta, who served as a U.S attorney in Florida, secured the federal non-prosecution agreement against Epstein in 2008, which critics have blasted as too lenient.
The labor secretary's role in the administration has come under scrutiny after Epstein, 66, was arrested over the weekend and charged Monday with sex trafficking of minorsin New York and Florida from at least 2002 through 2005. Epstein has pleaded not guilty to the charges.
Federal prosecutors in New York allegethe politically connected financier, who has socialized with Donald Trump, former President Bill Clinton and Britain's Prince Andrew, sexually abused dozens of minors and paid his victims to recruit others, allowing him to build a vast network of girls to exploit.
Democrats have called on Acosta to resign his Cabinet post following the latest charges against Epstein, a registered sex offender.
Trump defended Acosta on Tuesday and said that he had a "falling out" with Epstein a number of years ago, without elaborating.
"I had a falling out with him a long time ago," Trump told reporters at the White House about his relationship with Epstein. "I don't think I've spoken to him for 15 years."
"I was not a fan of his. That I can tell you," Trump added.
Trump praised Acosta on Tuesday for his job performance.
"He's been just an excellent secretary of labor," Trump said, before suggesting that multiple officials, in addition to Acosta, were responsible for how the 2008 case turned out — and that they probably "would wish they'd maybe done it a different way."
"If you go back and look at everybody else's decisions, whether it's a U.S. attorney, or an assistant U.S. attorney, or a judge, you go back 12 or 15 years ago or 20 years ago and look at their past decisions, I would think you would probably find that they would wish they'd maybe done it a different way," Trump said.
"I do hear there were a lot of people involved in that decision, not just him," he said. "You're talking about a long time ago. And again it was a decision made, I think, not by him but by a lot of people."
Trump added that he felt "very badly" for Acosta.
In the 2008 case, Epstein pleaded guilty to procuring a person under 18 for prostitution and felony solicitation of prostitution, which required him to register as a sex offender and serve about a year in a Florida county jail. He was able to leave almost daily for work, and was allowed to have his own private security detail behind bars.