The 2020 Senate map begins to take shape
Comments
By Chuck Todd and Mark Murray and Ben Kamisar with NBC News Politics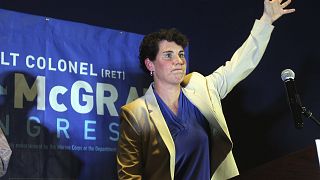 Copyright

James Crisp AP file

-
WASHINGTON — The Senate announcements sure have been dropping in the last 24 hours:
On MSNBC's "Morning Joe," Democrat Amy McGrath — who lost her high-profile Kentucky House race last year — said she's taking on Mitch McConnell (and at the least she'll raise A LOT of money).
In Kansas, Kris Kobach — who lost his gubernatorial bid against Democrat Laura Kelly in 2018 — says he's running for the Senate seat being vacated by Sen. Pat Roberts, R-Kansas (and that has national Republicans worried Kobach could cost them a winnable seat).
And in Virginia, another politician who lost in 2018 (are you noticing a trend?) — former Rep. Scott Taylor, R-Va. — said he's taking on Sen. Mark Warner, D-Va.
Add them all up, and you're starting to see the 2020 Senate map finally come into focus.
In Alabama — the GOP's best pick-up opportunity — there are a number of Republicans (including Roy Moore) who are running to challenge vulnerable Sen. Doug Jones, D-Ala.
In Arizona, Dem Mark Kelly raised $4.2 million in the second quarter in his bid against appointed Sen. Martha McSally, R-Ariz.
In Colorado, there are a slew of Dems competing to take on vulnerable Republican Sen. Cory Gardner.
In Maine, national Dems are pleased with their recent recruit — state House Speaker Sara Gideon — who's running to challenge Republican Sen. Susan Collins.
In Michigan, Republicans got failed 2018 Senate nominee John James to run against incumbent Dem Sen. Gary Peters.
And in North Carolina, national Dems are bullish on Cal Cunningham and the fact that incumbent Sen. Thom Tillis, R-N.C., is getting a primary challenge.
Remember: To win control of the Senate in 2020, Democrats need to net a pickup of three seats if they win the White House — and four if they don't.
That means Dems must run the table in Arizona, Colorado and Maine — and pick up one of North Carolina, Georgia, Iowa, Texas or another seat, assuming they lose Alabama.
Obamacare showdown in New Orleans
NBC's Pete Williams reports that a panel of appellate judges in New Orleans today considers the future of Obamacare - hearing from conservative states and the Trump Justice Department that the entire health-care law is unconstitutional.
Their reasoning: The Supreme Court upheld the law's individual mandate because it's a tax, but the tax penalty was dropped to zero, invalidating the whole thing.
Williams writes that the Supreme Court could hear the case next fall.
"My sense is that part of why the appeals court scheduled the oral argument for July was to be able to get the case decided in time for next term," said Prof. Steve Vladeck, an expert on federal courts at the University of Texas School of Law.
But as one of us tells Williams, a victory by Obamacare opponents could backfire on the GOP.
It would put health care front and center on the agenda for the 2020 election. And going back to the last election cycle, Democrats have the big advantage when it comes to health care.
Acosta isn't considering stepping down
More and more Democrats — including House Speaker Nancy Pelosi last night — are calling for Labor Secretary Alex Acosta to resign, given the new developments in the case against Jeffrey Epstein, per NBC's Hallie Jackson.
But a Labor Department spokesperson tells Jackson that Acosta is not considering stepping down from his position.
The White House has not responded to questions about Acosta's standing in the administration.
2020 Vision: Farewell Swalwell
Well, at least he got to participate in one debate.
Congressman Eric Swalwell yesterday bowed out of the 2020 presidential race and said he'd run for his House seat instead.
"After the first Democratic presidential debate, our polling and fundraising numbers weren't what we had hoped for, and I no longer see a path forward to the nomination," he said in a statement.
On the campaign trail today
Steve Bullock makes stops in Iowa, hitting Gowrie, Rippey and Des Moines … Kirsten Gillibrand stumps in New Hampshire … And Marianne Williamson is in South Carolina.
Dispatches from NBC's embeds
At Elizabeth Warren's town hall in Peterborough, N.H., the crowd loves her plans, plans, plans. NBC's Benjamin Pu reports the crowd at the town hall overflowed outside the venue, and those who spoke to Pu said they're impressed with Warren's "plans", how "specific she is" and her first debate performance.
NBC's Maura Barrett has the latest on Julián Castro's trip through western Iowa where he met with people in historically red districts. Barrett reports on what Castro had to say to locals in rural Iowa: "I've had sit downs with farmers and frankly also, I come with humility. Understanding that I have a lot to learn because I did not grow up in a rural community, I grew up in the big city."
Data Download: The number of the day is $19.1 million
$19.1 million.
That's how much Elizabeth Warren's campaign says she raised during the second quarter, a big bump for a candidate that's eschewing traditional big-dollar fundraising.
Warren spent 86 percent of the money she raised last quarter, a move that raised questions as to whether she'd be able to support the robust ground game her campaign had built.
But her strong fundraising haul, more than all but two candidates, will assuage those concerns.
Many of the top campaigns have already revealed their fundraising numbers, but some still haven't ahead of next week's quarterly filing deadline
Here's how Warren's fundraising total stacks up against her Dem rivals who already announced their second quarter numbers:
Buttigieg: $24.8 million raised
Biden: $21.5 million
Warren: $19.1 million
Sanders: $18 million
Harris: $12 million
Bennet: $2.8 million
Bullock: $2 million
Tweet of the day
The Lid: Stuck in the middle with you
Don't miss the return of the pod yesterday, when we looked at why the middle of the electorate is so important to Democrats in general elections.
ICYMI: News clips you shouldn't miss
Trump says he won't deal with the British ambassador who criticized him in leaked private memos.
The sex trafficking charges filed against Jeffrey Epstein are shining a light on Labor Secretary Alexander Acosta's decision to agree to a plea deal with Epstein in 2007.
Republican women are trying to rebuild their ranks in Washington.
Former Trump associate Felix Sater is scheduled to testify before the House Intelligence Committee on Tuesday.
Trump agenda: Block or charge?
The White House is blocking another ex-aide from answering the House Judiciary Committee's written questions.
The Trump administration's push to mandate pharmaceutical companies to list their prices on television advertisements is hitting a road block at the courts.
2020: Pete's challenge
Vice has a deep dive into how homophobia may present a stumbling block for Pete Buttigieg
Bernie Sanders is partnering with Alexandria Ocasio-Cortez on a new climate change resolution.