For Democrats next November, the middle still matters
Comments
By Chuck Todd and Mark Murray and Ben Kamisar with NBC News Politics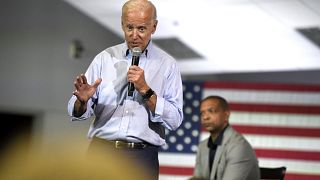 -
WASHINGTON — As the 2020 Democratic field largely becomes a race to the left, the latest Washington Post/ABC poll is reminder of how the middle still matters.
In the poll, Joe Biden — despite that rough debate performance — leads President Trump by 10 points among registered voters, while it's a jump ball with the other Dem candidates, including those like Bernie Sanders and Elizabeth Warren who have pretty high name ID.
The numbers among registered voters:
Biden 53 percent, Trump 43 percent (D 10)
Kamala Harris 48 percent, Trump 46 percent (D 2)
Sanders 49 percent, Trump 48 percent (D 1)
Warren 48 percent, Trump 48 percent (even)
Pete Buttigieg 47 percent, Trump 47 percent (even)
And it's Biden's strength with the middle that fuels his lead.
Among independents, he's ahead of Trump by 7 points, while the other Dems are tied or trailing, per the Post.
And among moderates, Biden leads the president by nearly 30 points, versus 15 to 21 points for the other Democrats.
Now this doesn't mean that Biden's advantage with the middle will last — there's plenty of evidence to be bearish about his long-term prospects.
It also doesn't mean that another Dem candidate couldn't over-perform with the middle, especially if he/she goes on a winning streak during the nominating contests — or even win a jump-ball election without dominating among moderates and independents.
And most importantly of all, it's still really early in sizing up these general-election polls, with Election Day 2020 still nearly 500 days away.
Still, the numbers are a reminder how it's a math game for Democrats.
Self-described conservatives outnumber self-described liberals by a 35 percent to 26 percent margin, according to a 2019 Gallup poll.
So to win national elections, Dems must run up the score among the 35 percent who are moderates. (In the 2018 midterms, they won moderates by 26 points and indies by 12 points.)
That's why the middle still matters.
Biden apologizes for segregationist remarks — nearly three weeks later
Speaking of evidence to be bearish about Biden's long-term prospects, it took him nearly three weeks to apologize for discussing his ability to work with segregationist senators during the 1970s.
He made the remarks at a June 18 fundraiser, and the Dem pile-on took place the next day.
And he apologized over the weekend on July 6, per NBC's Marianna Sotomayor.
"Was I wrong a few weeks ago to somehow give the impression to people that I was praising those men who I successfully opposed time & again? Yes I was. I regret it. I'm sorry for any of the pain or misconception ..."
NBC's Mike Memoli adds that Biden took so long to apologize because he wanted to do so while in South Carolina.
Trump determined to add citizenship question to census
"A top U.S. immigration official said Sunday he's confident that the Trump administration will add the citizenship question to the 2020 census after their effort to do so was shot down by the Supreme Court," per NBC News.
"I do think so," Ken Cuccinelli, acting director of the Citizenship and Immigration Services office, said on "Fox News Sunday." "I think the president has expressed determination. He's noted that the Supreme Court didn't say this can't be asked. They said they didn't appreciate the process by which it came forward the first time."
Relatedly, the Justice Department announced yesterday "that it was shifting its census effort to a new team of lawyers and indicated there would be more court filings Monday."
2020 Vision: Shakeup in the Democratic field?
NBC's Julia Jester flags that Eric Swalwell will hold a 4:00 pm ET news conference at his campaign headquarters in California.
Is he announcing he's leaving the 2020 presidential race? Remember, he can still run for his current House seat.
Meanwhile, The Atlantic reports that billionaire Tom Steyer has told staffers at two progressive groups he runs that he's jumping in the race, and could do so on Tuesday.
Remember, Steyer announced he WASN'T running back in January.
On the campaign trail today
Julián Castro and John Hickenlooper stump in Iowa … Elizabeth Warren, Kirsten Gillibrand and Tim Ryan are in New Hampshire … Kamala Harris hits South Carolina … Beto O'Rourke remains in Tennessee … And Jay Inslee discusses climate change in Oregon.
Data Download: The number of the day is … 6 points
Six points.
That's the difference in a hypothetical matchup between Trump and a Democrat voters regard as a "socialist," according to the same WaPo/ABC poll we mentioned above.
In this matchup, 49 percent of registered voters say they'd back Trump, while 43 percent support the Democrat who they believe is a socialist.
That 6-point lead for Trump is better than his head-to-head matchups in the poll versus Biden (whom he trails by 10 points) and other Democrats (with whom he's essentially tied).
Tweet of the day
ICYMI: News clips you shouldn't miss
Axios has a deep dive into the dynamics fueling the migrant crisis at the border.
The White House continues to deny reports that migrants are being held in poor conditions.
Leaked cables from the U.K.'s top diplomat criticizing President Trump may complicate the "Special Relationship."
Justin Amash won't rule out a presidential bid in 2020.
Trump agenda: Changing the census legal team
The Justice Department is changing its legal team in charge of its push to add a citizenship question to the Census.
Prosecutors are investigating top GOP fundraiser Elliott Broidy for possible corruption.
The admiral expected to lead the Navy is backing out and will retire instead.
President Trump blasted Fox News and the rest of the media in a weekend tweetstorm.
Twitter and Facebook haven't been invited to the White House social media summit.
2020: Harris and Warren are rising
Two women, Kamala Harris and Elizabeth Warren, are rising in the Democratic presidential primary field.
Politico has new NRCC polling that shows President Trump is severely unpopular in five swing districts. (But they also show impeachment is unpopular, too.)
Iowa and Nevada will allow caucus-goers to vote by phone in 2020.
John Hickenlooper admitted that some of his staff asked him to run for Senate instead of president.