More quakes forecast in California
Comments
By Dennis Romero with NBC News U.S. News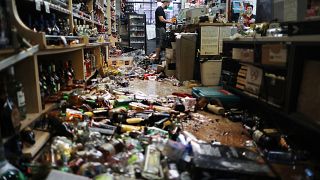 Copyright

Mario Tama Getty Images

-
So many earthquakes have rocked the high desert of Southern California since Friday's 7.1-magnitude temblor that the U.S. Geological Survey said Saturday it is unable to "count all events."
The quakes — there have been as many as 410 of magnitude 3 or higher since the 8:19 p.m. Friday shaker —are part of a sequence that is sure to continue rumbling in Searles Valley and Ridgecrest, California, seismologists say.
Late Friday, Lucy Jones, a seismologist at the California Institute of Technology in Pasadena, initially said there was about a 1 in 10 chance that yet another earthquake could top the last one, in this case the 7.1 of Friday night.
If that sounds like a long shot, consider that just 34 hours before that 7.1 the region was rocked by a 6.4 which at that point was the largest quake to strike Southern California in 20 years. The Thursday quake was only 6.8 miles northwest of Friday's epicenter near Ridgecrest.
The chances of such an occurrence were one in 20, Jones said on Twitter, adding after Friday's earthquake, "This is that 1 in 20 time."
In fact, Jones said at a news conference late Friday, the 7.1 was "triggered" by Thursday's quake.
Robert W. Graves, a USGS seismologist, said at the same press conference that the night's quake was "about a factor of 8 more powerful" than Thursday's.
Jones, the doyenne of California seismology, said the odds were favorable for stronger temblors in the area, including a 50 percent chance that the region could see a shaker measuring 6.0 or greater.
And, she said, the "chance for 5s is approaching certainty."
In an updated forecast Saturday, the Geological Survey reduced those odds: There was a 3 percent chance of a 7 or greater over the next week and a 27 percent chance of a 6 or greater.
"It is likely that there will be smaller earthquakes over the next 1 Week," the forecast reads. "The number of aftershocks will drop off over time, but a large aftershock can increase the numbers again, temporarily."
The fierce activity Friday and Saturday shook Southern Californians who hadn't experienced such a major temblor since a 7.1 struck near Joshua Tree in October 1999. (A 7.2 magnitude quake shook Southern California in 2010, but its epicenter was in the desert hinterlands just south of the U.S.-Mexico border).
On Friday night, Jones said there had been a cluster of Ridgecrest-area temblors, including 17 earthquakes since the 7.1 that measured greater than 4.0, and 70 that measured greater than 3.0.
A shaker in the same region triggered a warning alarm during the news conference.
"I just felt that," Jones said. "This is an active sequence."