De Blasio apologizes after quoting Che Guevara at South Florida rally
Comments
By Allan Smith with NBC News Politics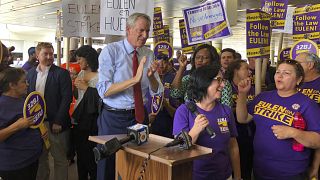 -
New York Mayor Bill de Blasio apologized Thursday for quoting Cuban revolutionary Che Guevara during a Wednesday night speech at a union rally in South Florida.
After Wednesday night's Democratic debate, de Blasio, who seeks to position himself in the presidential race as a champion of "working people," ended a speech to a union crowd by chanting Guevara's slogan "hasta la victoria siempre" or "until victory, always."
"I did not know the phrase I used in Miami today was associated with Che Guevara & I did not mean to offend anyone who heard it that way," de Blasio tweeted Thursday. "I certainly apologize for not understanding that history. I only meant it as a literal message to the striking airport workers that I believed they would be victorious in their strike."
He came under fire from Cuban Floridians, many of whom fled the nation after the communist revolution there. On Thursday afternoon, the remarks were the lead story on the Miami Herald's website. According to the newspaper, many Cuban exiles consider Guevara a murderous sociopath.
Shortly before de Blasio apologized on Twitter, Florida Democratic Party chair Terrie Rizzo tweeted: "Mayor Bill DeBlasio does not speak for Floridians or the Florida Democratic Party and he would be wise to apologize."
President Donald Trump's campaign also took aim at the comments Thursday. "When you're quoting murderous communist sociopaths, it probably means you're losing. Especially in Miami," the campaign's communications director, Tim Murtaugh, tweeted.
During an interview with CNN on Thursday, de Blasio again apologized for the remarks and said he did not understand the context of the statement.