What to watch for at tonight's second debate
Comments
By Chuck Todd and Mark Murray and Ben Kamisar with NBC News Politics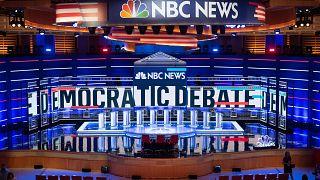 -
MIAMI — One down, one to go.
In last night's first Democratic presidential debate, we saw Elizabeth Warren emerge unscathed by her rivals; Julian Castro make the most of his appearance; Beto O'Rourke, Amy Klobuchar and Cory Booker fail to own a real moment; and Bill de Blasio make his presence felt.
It also was a very liberal debate (more on that below).
Now we're on to Night Two, and here are the storylines we're watching:
Biden vs. Bernie: It's the moment we've all been waiting for - the Democratic frontrunner (Joe Biden) versus the man who's been in second or third in the polling (Bernie Sanders). And it's easily the party's central ideological fight (Obama-era pragmatism versus Sanders' democratic socialism).
Harris vs. Buttigieg: Night Two also features two other top-tier Democrats - Kamala Harris (someone who's long been considered a contender to be the party's ultimate presidential nominee) and Pete Buttigieg (who's had the most surprising rise so far of the Dem race). Can either of them steal thunder from Biden and Bernie?
Can anyone else break through? As last night proved with Castro and de Blasio, the candidates who are hovering around 1 percent have every incentive to make mark to qualify for future debates. Here are tonight's other debate participants: Sens. Michael Bennet and Kirsten Gillibrand, Rep. Eric Swalwell, former Gov. John Hickenlooper, Andrew Yang and Marianne Williamson.
Will experience matter again? One reason why de Blasio had a (surprisingly) strong showing was his experience being in the spotlight; there are few jobs that get more scrutiny than New York City mayor. And you could make the argument that experience could give Biden and Sanders a leg up (they've done this before!), while it could hurt Harris and Buttigieg (they haven't).
How long will the coverage of Night Two last? The downside for last night's contenders — and upside for those who didn't have a great showing — is that the shelf life was always going to be 24 hours given the second debate. That's not the case tonight. And it's possible that a strong or weak moment could play into next week.
How left can you go?
Maybe the biggest question we have after last night's first debate is how left/progressive can the Democratic Party go before it does damage to the party's general-election prospects versus Trump.
Elizabeth Warren — who could very well wind up as the Dem nominee — was just one of two candidates on the stage who supported eliminating private health insurance, which doesn't poll all that well.
So based on the state of the current Dem horserace, two of the party's three top candidates (Warren and Sanders) support that position, with Joe Biden on the other side.
Meanwhile, Castro scored big debate points over O'Rourke when he called out the former congressman for not supporting the idea that illegally crossing the border should be a civil offense instead of a criminal one. And Booker said he agreed with Castro.
But doesn't that message play right into Trump's "open border" attacks?
Of course, there's the argument that Democrats might not pay any price for going too far left - if Donald Trump could win in 2016, so can a private-insurance-eliminating, open-borders Democrat.
Then again, that wasn't our takeaway from the 2018 midterms, when the winners in the purple/red districts and states tended to be those from the pragmatic wing of the party.
We do wonder if the setup of tonight's debate — Biden, Hickenlooper, Bennet — won't produce as liberal a debate as we saw last night.
Breaking down last tonight's top moments
Here are the moments and answers that still stick out in our minds.
Who supports eliminating private insurance and who doesn't?
Lester Holt: Who here would abolish their private health insurance in favor of a government-run plan? Just a show of hands.
(Only Warren and de Blasio raised their hands)
Castro vs. O'Rourke on immigration
Castro: Let's be very clear. The reason that they're separating these little children from their families is that they're using Section 1325 of that act which criminalizes coming across the border to incarcerate the parents and then separate them. Some of us on this stage have called to end that section, to terminate it. Some, like Congressman O'Rourke, have not. And I want to challenge all of the candidate to do that.
[snip]
O'Rourke: Let me respond to this very briefly. As a member of a Congress, I helped to introduce legislation that would ensure that we don't criminalize those who are seeking asylum and refuge in this country.
Castro: I'm not talking about — I'm not talking about the ones that are seeking asylum.
O'Rourke: If you're fleeing — if you're fleeing desperation, then I want to make sure...
Castro: I'm talking about — I'm talking about everybody else.
Does Warren have a plan for Mitch McConnell?
Chuck Todd: Do you have a plan to deal with Mitch McConnell if you don't beat him in the Senate, if he's still sitting there as the Senate majority leader? It's very plausible you be elected president with a Republican Senate. Do you have a plan to deal with Mitch McConnell?
Warren: I do... Number one, sure, I want to see us get a Democratic majority in the Senate. But short of a Democratic majority in the Senate, you better understand the fight still goes on. It starts in the White House, and it means that everybody we energize in 2020 stays on the frontlines come January 2021.
Tulsi Gabbard vs. Tim Ryan on Afghanistan
Gabbard: We cannot keep U.S. troops deployed to Afghanistan thinking that we're going to somehow squash this Taliban that's been there, that every other country that's tried has failed.
Ryan: I didn't say -- I didn't say squash them. I didn't say squash them. When we weren't in there, they started flying planes into our buildings. So I'm just saying right now... we have an obligation...
Gabbard: The Taliban didn't attack us on 9/11. Al Qaeda did.
Your top geopolitical threat?
Delaney: China and nuclear weapons
Inslee: Trump
Gabbard: Nuclear war
Klobuchar: China (on economy), Iran (Middle East)
O'Rourke: Climate change
Warren: Climate change
Booker: Nuclear proliferation and climate change
Castro: China and climate change
Ryan: China
De Blasio: Russia
2020 Vision
How the 2020ers have prepared for Night Two's debate: "While Sanders has been reading up on his rivals' stances on the issues, he is not reviewing past debate performances or having mock debates, [campaign manager Faiz] Shakir said, per NBC News.
"Biden's advisers said he plans on going high, even if the other candidates go low, and the candidate has started holding marathon practice sessions with longtime advisers."
On the campaign trail today: After last night's debate, Beto O'Rourke, Bill de Blasio and Tulsi Gabbard visit the Homestead detention facility… Bernie Sanders also heads there before his debate tonight… John Delaney holds a media avail… De Blasio attends a rally at the Miami airport… And Steve Bullock does a town hall in New Hampshire.
Data Download: The number of the day is … 10.9
10.9 minutes.
That's how long Cory Booker spoke during last night's Democratic debate, according to the Washington Post, good for the most on the stage.
Beto O'Rourke came in a close second with 10.3 minutes, followed by Elizabeth Warren's 9.3 minutes, Julián Castro's 8.8 minutes, and Amy Klobuchar's 8.5 minutes.
At the bottom of the list was Jay Inslee, who spoke for five minutes. And Bill De Blasio spoke the second-least of all the candidates with 5.6 minutes.
Tweet of the day
The Lid: Speak quickly and carry a big stick
Don't miss the pod from yesterday, when Alex Seitz-Wald outlined a game plan for how candidates can make the most of their time on the crowded debate stage.
ICYMI: News clips you shouldn't miss
The New York Times spoke with two women who say they were told contemporaneously about columnist E. Jean Carroll's accusation that President Trump sexually assaulted her in the 1990s.
The Supreme Court could rule today on pivotal cases on gerrymandering and the Census.
Congress is heading for a clash on border funding as the House and Senate pass bills with stark differences on how to address the humanitarian situation on the border.
Politico analyzes the leftward lean of many of the policies endorsed on last night's debate stage.
Trump agenda: The president vs. a soccer star
President Trump jabbed atU.S. women's national soccer team star Megan Rapinoe on Twitter
The House Oversight Committee issued a subpoena for Kellyanne Conway after she refused to show up at a hearing addressing concerns she violated the Hatch Act.
Politico reports that the knives are out for acting Homeland Security Secretary Kevin McAleenan among some immigration hard-liners.
The Wall Street Journal reports that China wants America to ease up on telecommunications company Huawei if the two sides are to come to an agreement on trade.
2020: Stark differences
Wednesday night's Democratic debate underscored some stark policy differences among the candidates.
Bernie Sanders wouldn't commit to dropping out of the presidential primary before the convention if it becomes clear he won't be the nominee.
The Washington Post sits down with Seth Moulton, one of the few Democratic candidates who didn't qualify for the first round of debates.