What to watch for at tonight's first Democratic presidential debate
Comments
By Chuck Todd and Mark Murray and Ben Kamisar with NBC News Politics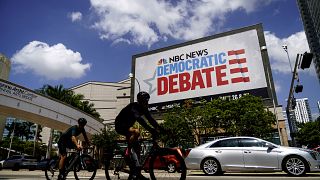 Copyright

Drew Angerer Getty Images

-
MIAMI — The first debates of the 2020 Democratic presidential race are finally here.
Ten candidates — led by Elizabeth Warren, Beto O'Rourke, Amy Klobuchar and Cory Booker — will participate tonight beginning at 9:00 pm ET.
And the second 10 — led by Joe Biden, Bernie Sanders, Kamala Harris and Pete Buttigieg — go on Thursday.
Both two-hour debates will be televised live on NBC, MSNBC and Telemundo, and they will be moderated by Savannah Guthrie of "Today," Lester Holt of "Nightly News," Jose Diaz-Balart of Telemundo and NBC, Rachel Maddow of MSNBC and Chuck Todd of "Meet the Press."
Here's what we're watching for tonight:
How does Warren handle being the night's frontrunner? The Massachusetts senator has been moving up in the polls. And without Biden or Bernie on the stage, she's the star attraction — at least on paper. Maybe Warren's biggest task is handling the high expectations.
Who else breaks through - Beto, Booker or Klobuchar? Since Biden-versus-Bernie is Night Two, at least one of the other candidates will shine. Will it be O'Rourke, who has seen his star fade since his entry in March? Or Booker, who really hasn't had a moment so far in the 2020 race? Or Klobuchar, who often stands out when she's on TV.
Who else has a moment? There are six other candidates on tonight's debate stage: Washington Gov. Jay Inslee, former HUD Secretary Julian Castro, former Rep. John Delaney, Reps. Tulsi Gabbard and Tim Ryan, and New York City Mayor Bill de Blasio. Remember, these folks are vying to survive the higher qualifications before September's third debate(s).
How long does coverage of Night One last? The biggest disadvantage of going on the first night is that the coverage has a potential shelf life of 24 hours — before the second debate begins. So even if you stand out, does that get overshadowed starting at 9:00 pm ET on Thursday, when Biden, Bernie, Harris and Buttigieg take the stage?
Mueller's Crossing
Former special counsel Robert Mueller has agreed to testify in public before the House Intelligence and Judiciary committees on July 17 - after being subpoenaed, per NBC's Rebecca Shabad and Kristen Welker.
"The [Democratic] chairmen suggested in a letter to Mueller on Tuesday accompanying the subpoena that they understand that Mueller may limit what he plans to share with lawmakers, with Schiff and Nadler writing that they know 'there are certain sensitivities associated with your open testimony.'"
"Mueller did not want to testify, but will respect the subpoena to testify in open session, Schiff said on 'The Rachel Maddow Show' Tuesday night on MSNBC. Mueller's staff will speak to the committees in a closed session after Mueller's public testimony."
House passes bill addressing border crisis
By a 230-195 vote — mostly along party lines — the Democratic-led House passed legislation last night providing $4.5 billion to address the humanitarian crisis at the border, NBC News reports.
Speaker Nancy Pelosi "has warned that the Senate's version of the bill, negotiated between Democrats and Republicans, doesn't provide as many protections for migrants."
"Pelosi also warned her members, 'A vote against this bill is a vote for Donald Trump and his inhumane, outside-the-circle of civilized attitude toward the children.'"
The Trump administration's OMB has recommended Trump to veto the bill because it "does not provide adequate funding to meet the current crisis, and because it contains partisan provisions designed to hamstring the administration's border enforcement efforts."
2020 Vision: How the 2020ers have prepared for tonight's debate
A top aide pointed to Elizabeth Warren's "campaign schedule as an example of how she's prepared — she has done 100 town halls, fielded more than 450 voter questions and parried with reporters at 72 post-event media availabilities, according to her campaign," NBC's Dareh Gregorian and Ali Vitali write.
"[Beto] O'Rourke told NBC News that he has been preparing by 'listening to people,' and his campaign said he has answered nearly 1,500 questions at town halls since the campaign started."
Cory Booker has taken breaks "to do pushups 'to keep him motivated,' a campaign aide said. He's also done bicep curls in his shirt and tie."
And as for Amy Klobuchar, NBC's Jonathan Allen spotted her on her plane ride from DC to Miami: "Didn't look up from briefing books and index cards but to exchange pleasantries with flight attendant and a few others."
On the campaign trail today
Before tonight's debate, Elizabeth Warren heads to Homestead, Fla… Julian Castro and John Delaney hold media avails in Miami… And Steve Bullock, in Iowa, holds a televised town hall.
Data Download: The number of the day is … 3
Three.
That's the number of Democratic presidential candidates who say they are visiting Homestead, the Miami-area detention center that's holding groups of migrant children, while they're in town for the Democratic primary debate.
Elizabeth Warren blasted Homestead as a "prison" during her town hall in Miami last night, telling the crowd she'd visit the center in the hours before she takes the debate stage on Wednesday night. She added that "we have to shut that down and shut it down now."
Beto O'Rourke had already announced plans to visit the site this Thursday, the day after he joins Warren on the debate stage.
Eric Swalwell tried to visit the center on Monday, but was turned away by an employee.
And a senior Sanders campaign official told NBC News' Shaquille Brewster Wednesday morning that Jane Sanders, Bernie Sanders' wife, will head to Homestead as well.
Tweet of the day
The Lid: Allow me to introduce myself
Don't miss the pod from yesterday, when guest star Melissa Holzberg made her debut to talk about the early moves by presidential hopefuls on the airwaves.
ICYMI: New clips you shouldn't miss
The Associated Press reports that American officials are meeting with North Korea about a third summit between President Donald Trump and North Korean leader Kim Jong Un.
The Washington Post previews President Trump's G-20 trip.
Two American soldiers were killed in Afghanistan on Wednesday.
A top Iranian official declared the "permanent closure" of diplomacy between his country and America after the latest round of sanctions were announced.
Trump agenda: Another day, another resignation
The acting commissioner of Customs and Border Protection will resign next monthamid a new rash of reports that many child migrants lack basic hygiene items as they sit in U.S. custody.
The State Department's chief protocol officer was pulled off the job days before the G-20 summit as the agency investigates discrimination and harassment allegations.
2020: Let's get ready to rumble
The Wall Street Journal analyzes some key dynamics of the first Democratic debates.
The New York Times looks at Cory Booker's potential for a break-out moment ahead of his turn on the debate stage.
And the Times also explores Joe Biden's record on criminal justice.
Martha McSally won an endorsement from President Trump Tuesday amid concerns about a primary challenge.