Senate passes its version of emergency border funding bill
Comments
By Leigh Ann Caldwell with NBC News Politics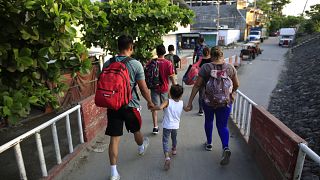 Copyright

Rebecca Blackwell AP

-
WASHINGTON — The Senate passed an emergency funding bill for humanitarian aid Wednesday afternoon to provide relief for the influx of children and families seeking asylum on the southern border, but the measure's path to the president's desk for signature is still uncertain.
The $4.6 billion measure, which passed with overwhelming and bipartisan support in a vote of 84-8, must now be reconciled with the measure that passed the House of Representatives Tuesday and was voted down by the Senate earlier today, before President Donald Trump can sign it.
With Congress hoping to pass a funding bill before they leave town for more than a week for the July Fourth holiday, time of the essence for the House and the Senate to come to an agreement as overcrowded conditions on the border worsen for migrants as federal agencies are running out of money.
House Speaker Nancy Pelosi called the president Wednesday afternoon in an attempt to work out the differences between the House and Senate bill. The fifteen-minute call took place just moments before the president left for Osaka for the G-20 conference.
"I just spoke with Nancy Pelosi, and we had a good conversation having to do with the bill, humanitarian aid at the border, for the children mostly, and we are moving along very well with a bipartisan bill in the Senate," Trump said on the South Lawn. "We're doing very well. It's very far along, and I believe the House is going to also be getting together with the Senate. Hopefully they can get something done."
While both measures provide funding for the Department of Health and Human Services and Department of Homeland Security to provide services for children and families, the House provides more stringent and specific guidelines for humanitarian standards. It also allows for unannounced visits by members of Congress with oversight and it mandates that "influx" centers comply with humanitarian standards within six months instead of 14 months, which is the timeline included in the Senate bill.
House Democratic leaders made two rounds of changes to their bill to garner the support of many progressive and Hispanic Caucus members. The Republican-controlled Senate voted on the House version of the legislation earlier Wednesday but it failed by a vote of 37-55, forcing the two bodies to reconcile the two bills.