Pence touts Latino support for Trump in Miami ahead of Democratic debates
Comments
By Monica Alba with NBC News Politics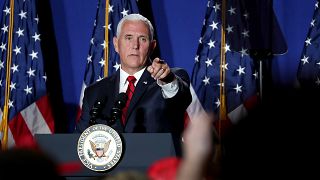 Copyright

Joe Raedle Getty Images

-
MIAMI — Vice President Mike Pence rolled out a coalition of Latino support for the Trump campaign in Miami on Tuesday, a day before Democrats are set to spar here in the first presidential debates of the 2020 cycle.
Pence mentioned the two-night event several times throughout his remarks, claiming the opposing side will "advocate more taxes, more regulations, something called 'Medicare for All' and the Green New Deal."
He predicted a lot of "finger-pointing" from the candidates but argued that the president has done more on immigration in recent weeks "than Democrats have done in the last 10 years."
As the Trump administration continues to confront difficult questions over its southern border policies and handling of family separations, Pence defended the moves more generally as "taking decisive steps to secure" the country amid a "humanitarian crisis."
The vice president continued to call on Congress to "close the loopholes" and said "thanks to President Trump's leadership," Mexico has "stepped up" and helped alleviate the flow of migrants into the United States.
With strong messages on Cuba, Venezuela and "the cost of socialism," the Trump campaign is hoping to chip away at the reliably Democratic-leaning Hispanic vote here.
"America will never be a socialist country," Pence said, echoing Trump in his State of the Union Address this year, to cheers and applause.
The vice president spoke to a crowd of several hundred in a hotel ballroom, and also touted record-low unemployment rates and a booming economy benefitting Hispanic workers. Pence quipped that Trump is the "best friend" that Latino businesses "have ever had."
The Trump supporters who attended were enthusiastic, interrupting Pence several times with familiar rally chants such as "Build the wall!" and "Lock her up!" The vice president mostly ignored the interjections and stuck to his prepared remarks.
Florida isn't just a critical battleground state in 2020. It is also home to more than 2 million Hispanic voters who can deliver 29 crucial Electoral College votes.
In 2016, Trump won Florida by 1.2 percentage points, after Barack Obama won the state in 2012 by just under 1 percentage point.
The Trump campaign considers Florida a "must-win," along with Pennsylvania, Michigan and Ohio for 2020. That's why aides encouraged the president to formally announce his bid for a second term in Orlando last week.
Florida Lt. Gov. Jeannette Nuñez was announced as a national co-chair of the campaign Tuesday. In 2016, she threw her support behind Sen. Marco Rubio in the GOP primary and tweeted that then-candidate Trump was "the biggest con man there is." She later deleted the tweet and explained her thinking had evolved, saying "it is what it is."
On Tuesday, Nuñez praised Trump effusively and was chosen to introduce the vice president to the stage.
The other co-chair revealed today is Margarita Palau-Hernandez, who was previously a top Jeb Bush and Ted Cruz fundraiser.
The campaign also officially launched its Latino advisory board Tuesday, with about 20 members ranging from local politicians and small business owners to community activists and even a former contestant from the first season of "The Apprentice."
Many have ties to Cuban and Venezuelan groups, a sign the Trump campaign plants to continue to target those particular voting blocks.
Apart from Pence, the White House was also represented by its director of strategic communications, Mercedes Schlapp, a Cuban-American who kicked off her remarks with a hearty "Viva Trump!" and delivered half of her remarks in Spanish. Later in the program, Schlapp clarified that she was attending in her "personal capacity."
"The socialist experiment has failed," Schlapp said, slamming Democrats and pledging to "stop them" out of an obligation to future generations and Hispanic children.
Several Trump supporters who attended Tuesday's event said they wanted to hear Pence because he may represent the "future of the party" in 2024 and beyond. Others said they simply wanted to hear what the Trump campaign had to say on Central and South America, the biggest theme weaved throughout Pence's half-hour speech.
The president is not holding any campaign rallies this week before he departs Washington for Osaka, Japan, to participate in the G20 Conference on Wednesday. He'll be aboard Air Force One during the first Democratic debate and may live-tweet some of the back-to-back primetime events.
But as he will be thousands of miles away, several of Trump's top campaign aides will be on the ground in Miami to provide their rebuttals. The RNC has also deployed a team to South Florida to counter-program and provide real-time response to the 20 Democrats sparring on stage this week.