Sen. Warren presses ICE for answers on treatment of detainees, use of solitary
Comments
By Emily R. Siegel with NBC News Politics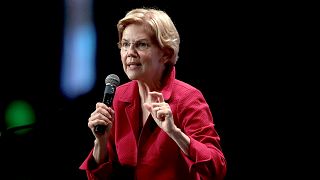 Copyright

Scott Olson Getty Images file

-
Citing the findings of an NBC News investigation, Sen. Elizabeth Warren, D-Mass., sent a letter to Immigration and Customs Enforcement on Friday about the treatment of immigrants in ICE detention facilities and the use of solitary confinement, especially for disabled and LGBTQ detainees.
"The volume and severity with which ICE appears to be violating its own rules is extremely disturbing," wrote Warren, a contender for the 2020 Democratic presidential nomination, "especially given how seriously it is compromising the health and safety of the detainees in its care."
Warren's letter details findings from an investigation by NBC News in partnership with the International Consortium of Investigative Journalists and the Intercept that documented the extensive use of solitary for immigrant detainees held in jails around the country.
NBC News reviewed records from a Freedom of Information Act request that documented solitary cases from March 2012 to March 2017. The investigation found that only half of the nearly 8,500 solitary cases between 2012 and 2017 involved punishment for rule violations. The other half involved people — many of them gay, mentally ill or disabled — placed in isolation largely for what ICE described as safety reasons.
The investigation also included the story of an employee of Department of Homeland Security, the department that oversees ICE, who made multiple attempts to alert higher-ups about the rampant use of segregation for the mentally ill and other vulnerable communities.
"We have created and continue to support a system that involves widespread abuse of human beings," said the DHS employee, Ellen Gallagher, a policy adviser.
In her letter, Warren asks ICE for the number of times detainees were placed in segregation from 2016 to the present, how many deaths occurred during and after segregation, and how many had special vulnerabilities. She also questioned whether ICE implemented recommendations on the use of solitary confinement by DHS's inspector general.
Warren included a deadline of July 5 for answers to her questions.