Trump: 'Iran made a very big mistake!'
Comments
By Kristen Welker and Courtney Kube and Hans Nichols and Lauren Egan and Rebecca Shabad with NBC News Politics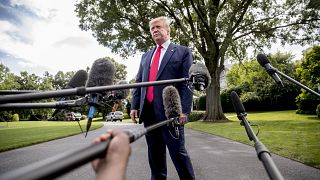 Copyright

Andrew Harnik AP

-
WASHINGTON — President Donald Trump said Thursday that Iran had "made a very big mistake!" hours after the Pentagon accused Iran of downing a U.S. surveillance drone several hours earlier, delivering the first official White House reaction to the incident as officials gathered to weigh the U.S. response.
The president's statement, made via Twitter Thursday morning, came shortly after White House officials confirmed that he had been briefed on the incident, which occurred around roughly 4:00 am Thursday morning in Iran, a bit after 7:30 pm ET Wednesday evening in Washington.
A meeting was scheduled to be held at the White House Thursday morning to discuss the U.S. response, according to two administration officials. Outgoing acting defense secretary Patrick Shanahan and his replacement, incoming acting defense secretary Mark Esper, were among those expected to attend.
At roughly the same time, House and Senate leaders and key committee chairs were scheduled to attend an Iran briefing to discuss their concerns and hear about the situation from officials, House Speaker Nancy Pelosi, D-Calif., told reporters Thursday.
Later in the day, Pelosi planned to hold a briefing for the House Democratic caucus with Wendy Sherman, who helped negotiate the Iran nuclear agreement that President Donald Trump withdrew from, and former CIA Director John Brennan.
The House speaker said Thursday that "high tension wires are up in the region" and cautioned against any "reckless" moves by the U.S.
"We have to be strong and strategic about how we protect our interests. We also cannot be reckless in what we do. I don't think the president wants to go to war. There's no appetite for going to war in our country," she said at her weekly news conference on Capitol Hill. "This is a dangerous neighborhood. A miscalculation on either side could provoke something that could be very bad in terms of security and our interests."
Although both nations have acknowledged that the U.S. military drone was downed, they disagreed on whether the drone had violated Iranian airspace: Iranian's Revolutionary Guard said that the U.S. drone had violated Iranian airspace, but U.S. officials disputed that account.