Roy Moore launches second run for Alabama Senate seat
Comments
By Dartunorro Clark and Vaughn Hillyard with NBC News Politics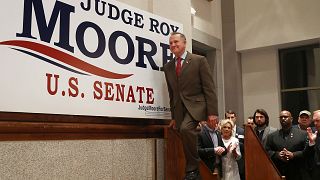 Copyright

Joe Raedle Getty Images file

-
MONTGOMERY, Ala. — Roy Moore, the failed U.S. Senate candidate in Alabama who was accused of sexual misconduct by several women when they were teenagers and he was in his 30s, announced Thursday that he will run again for the seat.
"Yes, I will run for the United States Senate in 2020," Moore said, adding, "Can I win? Yes I can. Not only can I, they know I can."
Moore, a former Alabama Supreme Court chief justice, was defeated by former U.S. Attorney Doug Jones, a Democrat, in the 2017 special election after a bruising campaign that was widely viewed as a safe seat for Alabama Republicans. The race was rocked by allegations from nine women alleging Moore had pursued relationships with them when they were teenagers or young women.
Moore had denied the allegations — first reported by The Washington Post — and characterized them as politically motivated.
President Donald Trump had initially endorsed Sen. Luther Strange, Moore's rival in the 2017 Republican primary for the seat, which was left vacant when Trump appointed former Sen. Jeff Sessions as attorney general. However, days before voters headed to the polls in the special Senate election in December 2017, Trump bucked party leadership and delivered a full-throated endorsement of Moore at an Alabama rally.
Last month, however, Trump said that he does not want Moore to make another Senate run for the seat.
"Republicans cannot allow themselves to again lose the Senate seat in the Great State of Alabama," Trump tweeted. "This time it will be for Six Years, not just Two. I have NOTHING against Roy Moore, and unlike many other Republican leaders, wanted him to win. But he didn't, and probably won't."
Trump added, "Roy Moore cannot win, and the consequences will be devastating. ... Judges and Supreme Court Justices!"
However, an April poll from Mason-Dixon Polling and Strategy showed Moore leading the Republican field for the party's 2020 nomination to challenge Jones.
The poll found Moore leading among could-be GOP candidates with 27 percent. The poll also found that Moore holds a net approval rating in the state — 34 percent of voters view him favorably compared to 29 percent who view him unfavorably.
Moore lost the 2017 special election by just under 21,000 votes in what was considered a safe GOP seat. Nearly 23,000 Alabamians, including Republican Sen. Richard Shelby, wrote in alternative names to Moore or Jones.
Moore asserted in a tweet Wednesdaythat he would have won that election if Shelby had "stayed out" of the race. Shelby told NBC News on Wednesday that Sessions is still considering a bid and suggested that he would be a "formidable candidate."
Sen. Todd Young, R-Ind., the head of the National Republican Senatorial Committee, told NBC News on Wednesday that Alabama had already "rejected Roy Moore, and I don't see a whole lot that has changed since then."
Moore would join a roster of GOP candidates that includes former Auburn University football coach Tommy Tuberville as well as U.S. Rep. Bradley Byrne, Alabama State Rep. Arnold Mooney, and former television evangelist Stanley Adair.
Another possible candidate, Alabama Secretary of State John Merrill, told NBC he will make an announcement next week on whether he'll enter the fray.
Jones, meanwhile, declined to directly address Moore's possible candidacy in an interview on Wednesday.
"We feel very good about where we are in the campaign," he said. "I'll just let them all fight it out."