Airbus Boeing race for new orders at Paris Air Show
Comments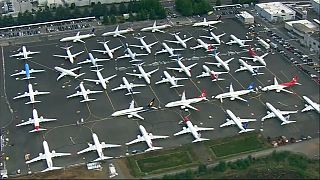 Airbus sealed deals with big buyers for its latest passenger jet at the Paris Airshow, fighting back after a surprise order by British Airways' owner for rival Boeing's grounded 737 MAX jet.
Indigo Partners, the private equity firm of veteran low-cost airline investor Bill Franke, and American Airlines each signed up for 50 of Airbus's new long-range A321neo jet
Airbus launched the new plane on Monday, aiming to carve out new routes for airlines with smaller planes and steal a march on Boeing's plans for a potential all new jet for the middle of the market.
Boeing is in talks with other airlines for sales of its grounded 737 MAX its sales chief Ihssane Mounir said on Thursday:
"It's been a very difficult time for all of us at Boeing. We've been devastated by the two accidents, the loss of life. Our teams have been reflecting on this daily since it happened. And to come to this show and receive such a strong expression of support from our customers, from many industry partners, it's been very very touching and it's been very humbling."
The shock announcement of a tentative order for 200 737 MAX airplanes from IAG, which operates Airbus for medium-haul routes and mainly Boeing ones for long-haul, electrified a subdued gathering overshadowed by the MAX crisis and trade tensions.