Biden cites segregationist senators as he recalls past 'civility' in Senate
Comments
By Allan Smith with NBC News Politics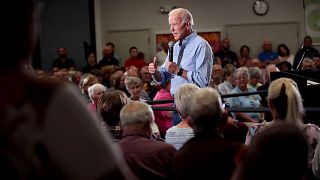 Copyright

Scott Olson Getty Images file

-
Former Vice President Joe Biden on Tuesday, in recalling the "civility" of the Senate during his days as a lawmaker in the 1970s and 1980s, cited his experience with two segregationist southern senators.
Speaking at a fundraiser at New York City's Carlyle Hotel, Biden brought up the names of the late Sens. James Eastland of Mississippi and Herman Talmadge of Georgia, Democrats who were staunchly opposed to desegregation. Eastland chaired the Senate Judiciary Committee when Biden entered the Senate — a committee he would later chair.
"I was in a caucus with James O. Eastland," Biden said, according to a pool report from the event. "He never called me 'boy,' he always called me 'son.'" Of Talmadge, Biden said he was "one of the meanest guys I ever knew, you go down the list of all these guys."
"Well guess what?" Biden continued. "At least there was some civility. We got things done. We didn't agree on much of anything. We got things done. We got it finished. But today, you look at the other side and you're the enemy. Not the opposition, the enemy. We don't talk to each other anymore."
Biden said he believes "one of the things I'm pretty good at is bringing people together," before citing negotiations he had to partake in with Mitch McConnell, now the Senate majority leader.
"I know the new New Left tells me that I'm — this is old-fashioned," he said earlier. "Well guess what? If we can't reach a consensus in our system, what happens? It encourages and demands the abuse of power by a president. That's what it does. You have to be able to reach consensus under our system — our Constitutional system of separation of powers."