Under Trump, the GOP has struggled to win at the ballot box
Comments
By Chuck Todd and Mark Murray and Carrie Dann with NBC News Politics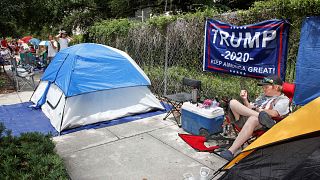 Copyright

Gregg Newton AFP - Getty Images

-
WASHINGTON — As President Donald Trump holds his re-election rally in Florida tonight, it's a reminder — two and a half years into his time in office — how he's 100 percent taken over what was once the party of Abraham Lincoln and Ronald Reagan.
The man who was on the verge of being dumped by the GOP — from saying John McCain wasn't a war hero, to the Access Hollywood video — is now in charge of it all.
And beyond how Trump has changed the party on issues (like immigration, tariffs, dealing with allies/adversaries), here's your scorecard of the GOP under Trump.
It's gained one Senate seat (two during last year's midterms, but it lost Alabama's Senate seat in an earlier special election).
It's lost some 40 House seats and control of that chamber to Democrats.
And it's lost eight governorships — New Jersey in 2017, and from Illinois to Kansas in 2018.
Of course, midterms do that presidents: Both Bill Clinton and Barack Obama lost big in their first midterm cycles before winning re-election.
The question is how the Republican Party fares when Trump's name is once again on the ballot.
But if 2018 taught us anything, it's how political gravity does apply to Trump and his party — an unpopular president will take a beating.
And that's especially true for someone who no longer has Bushes and Clinton as foils to run against.
Elizabeth Warren's rise
After six months as a presidential candidate, Elizabeth Warren is in a much stronger place today than she was when she started - when her claims of Native American ancestry dominated her coverage.
Per the most recent NBC/WSJ poll: A combined 64 percent of Dem primary voters say they're enthusiastic/comfortable about Warren (up from 57 percent in March), while a combined 27 percent have reservations or are very uncomfortable (down from 33 percent).
Joe Biden's numbers among Democratic primary voters in this same poll are 66 percent enthusiastic/comfortable (down from 73 percent in March), versus 32 percent reservations/very uncomfortable (up from 25 percent in March).
And Bernie Sanders' numbers are 56 percent enthusiastic/comfortable (down from 62 percent in March), versus 43 percent reservations/uncomfortable (up from 36 percent in March).
This rise for Warren has come amid generally positive coverage of her and her policy plans.
The question we have: What happens if/when the coverage turns negative?
2020 Vision: 100 Days of Amy
Eight days before the first Democratic debates, Amy Klobuchar's campaign listed more than 100 concrete actions the senator would take in her first 100 days as president.
They include:
Rejoining the Paris climate accord.
Allowing for the immediate importation of prescription drugs from countries like Canada.
Filling judicial vacancies beginning on Day 1.
Protecting voting rights.
Raising the minimum wage for federal contractors to $15 a hour.
And jumpstarting negotiations to pass comprehensive immigration reform.
On the campaign trail today: Trump formally kicks off his re-election effort in Orlando, Fla., at 8:00 pm ET… Eric Swalwell is in New Hampshire, as is Marianne Williamson… And Joe Biden raises money in New York City.
Tweet of the day
Data Download: The number of the day is … 22 percent
Twenty-two percent.
That's the share of *Republicans* who believe that abortion should be illegal in all cases, with no exceptions, according to the latest NBC News/Wall Street Journal poll.
The new data come as state legislatures, including in Alabama, have greenlighted bills that would essentially outlaw all abortions without exceptions, such as in cases of rape or incest.
Far more Republicans - 46 percent - say that abortion should be illegal in most cases, but that there should be specific exceptions.
Additionally, about one in six Republicans said that abortion should be legal in all cases, and about the same share said that abortion should be legal in most cases.
The Lid: Nancy and the Giant Impeach
Don't miss the pod from yesterday, when we looked at the newest NBC/WSJ data on support for impeachment.
ICYMI: News clips you shouldn't miss
NBC's Jonathan Allen writes that Trump's worst 2020 enemy may be himself.
Parkland survivor and conservative gun rights advocate Kyle Kashuvhas had his admission to Harvardrescinded after past racist comments surfaced.
Swing district Democrat Katie Porterannounced her supportfor impeachment proceedings.
Trump is promisingmass arrests of "millions" of undocumented immigrants starting "next week."
Trump agenda: A thousand troops
The administrationis orderinganother 1,000 troops to the Middle East amid tensions with Iran.
Democrats are declaring victory after the Supreme Court blocked a suit over racially gerrymandered districts in Virginia.
2020: Florida, Florida, Florida
For Trump, it's always Florida! Florida! Florida!
Four years ago, Trump was the sideshow,the New York Times writes. Now he's the show.
Some law enforcement professionals are raising the alarm over Democratic calls to prosecute Trump when he's out of office.
The DNC is getting plenty of blowbackfrom within its ranks when it comes to how it's managing the primary process.
Julian Castro has a new plan to expand housing assistance for the poor.
Steve Bullockis counterprogrammingthe DNC debate.