Paul Manafort expressed concern about going to a New York prison. Then the DOJ stepped in
Comments
By Allan Smith with NBC News Politics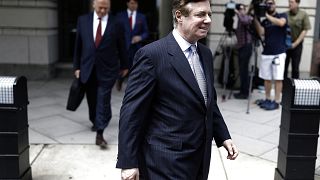 Copyright

Aaron P. Bernstein Bloomberg via Getty Images file

-
Former Trump campaign chairman Paul Manafort expressed concern over being transferred to a state lock-up in New York, and then the Department of Justice stepped in to keep him in federal custody.
Facing state charges in New York, Manafort was expected to be transferred from federal prison in Pennsylvania to the notorious Rikers Island jail complex in New York City while he awaits state trial.
But his attorneys contacted the Federal Bureau of Prisons to express concern about his health and personal safety if such a transfer occurred and proposed he stay in federal custody, a Justice Department spokesperson told NBC News.
"The Department requested the views of New York prosecutors, who did not object to Mr. Manafort's proposal," the spokesperson said. "In light of New York's position, and Mr. Manafort's unique health and safety needs, the Department determined to err on the side of caution by keeping Mr. Manafort in federal custody during the pendency of his state proceeding."
Manafort "has been transported to New York and will be made available to the state whenever needed for his state case," the spokesman added. "This arrangement will not have any impact on his state proceedings."
The New York Times reported Monday that, to their surprise, Manhattan prosecutors received an inquiry from Deputy Attorney General Jeffrey Rosen last week asking about Manafort's case. Then on Monday, federal prison officials told the Manhattan district attorney's office that Trump's former campaign manager would not go to Rikers Island and instead would await his trial at a federal prison in Manhattan, the Times reported.
Manafort is serving a seven-and-a-half-year sentence after he was convicted last year of financial fraud in two separate cases stemming from former special counsel Robert Mueller's wide-ranging investigation of Russian electoral interference.
In March, Manafort was indicted on mortgage fraud and other state felony charges in New York. Those charges were filed in part to ensure Manafort would still face prison time if President Donald Trump opted to pardon him for his federal convictions.
Manafort's state arraignment is set for next week in Manhattan State Supreme Court.