With re-election on the line, Trump's poll numbers are full of warning signs
Comments
By Chuck Todd and Mark Murray and Carrie Dann with NBC News Politics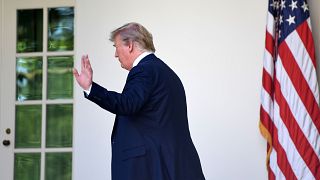 Copyright

Saul Loeb AFP - Getty Images

-
WASHINGTON — As he formally kicks off his re-election bid Tuesday in Florida, President Trump faces some grim numbers.
His approval rating in the new NBC/Wall Street Journal poll stands at 44 percent among all Americans — well below the safe zone for any president.
Fifty-two percent of all voters say they are "very uncomfortable" about voting for him in 2020, according to the same poll.
And Trump's own internal polls have him trailing Joe Biden in Florida, Michigan, Pennsylvania, Wisconsin — and even Georgia, Iowa, North Carolina and Ohio.
The good news for Trump is that a lot can change with more than 500 days (!!!) until Election Day 2020.
In the April 2011 NBC/WSJ poll, just 43 percent of voters said they would "probably" vote for Barack Obama.
And at this same point in the 1992 presidential cycle, George H.W. Bush's approval rating was at 71 percent, per Gallup.
Bush, of course, lost re-election, while Obama won.
But here's the bad news for Trump: His numbers have essentially been flat his entire presidency.
His first approval rating in the NBC/WSJ poll after his inauguration was 44 percent — exactly where he is today.
Indeed, with just a handful of exceptions, Trumps' range in approval has hovered between 40 percent and 46 percent.
So the more the stories have changed in Washington, the more things have stayed the same.
And that's a dangerous situation for any president looking for a rebound with his re-election on the line.
All grown up
The other story from our new NBC/WSJ poll is how Democrats' support for impeachment has grown in the last month.
Overall, 27 percent of Americans say there's enough evidence to begin impeachment hearings now — up 10 points from last month.
Another 24 percent think Congress should continue investigating to see if there's enough evidence to hold impeachment hearings in the future, which is down eight points.
And 48 percent believe that Congress should not hold impeachment hearings and that Trump should finish out his term as president — unchanged from a month ago.
Almost all the growth in support for impeachment has come from Democrats, with 48 percent of them wanting impeachment hearings now, versus 30 percent who said this a month ago.
Just 6 percent of Republicans support beginning impeachment hearings now, while a whopping 86 percent say Trump should finish his term as president.
Among independents, 22 percent support impeachment hearings now; 34 percent want to continue investigating; and 44 percent oppose impeachment hearings.
Tweet of the day
Again, the numbers from our new poll he was apparently referring to:
Begin impeachment hearings now: 27 percent
Continue investigating to see if there's enough evidence to hold impeachment hearings in the future: 24 percent.
Congress should not hold impeachment hearings and Trump should finish his term as president: 48 percent.
Iran poised to break uranium stockpile limit
Amid all the domestic political news about Trump and the Democratic primary, don't miss what's happening in Iran.
Per the AP: "Iran will break the uranium stockpile limit set by Tehran's nuclear deal with world powers in the next 10 days, the spokesman for the country's atomic agency said Monday while also warning that Iran could enrich uranium up to 20% — just a step away from weapons-grade levels."
More: "The announcement by Behrouz Kamalvandi, timed for a meeting of EU foreign ministers in Brussels, puts more pressure on Europe to come up with new terms for Iran's 2015 nuclear deal. The deal steadily has unraveled since the Trump administration pulled America out of the accord last year and re-imposed tough economic sanctions on Iran, deeply cutting into its sale of crude oil abroad and sending its economy into freefall. Europe so far has been unable to offer Iran a way around the U.S. sanctions."
2020 Vision: Pete does "Meet"
In an interview with one of us(!) over the weekend, Pete Buttigieg addressed concerns that more socially conservative African-American voters may be reluctant to support him.
Chuck Todd: "I've talked to African American congressmen who really like you and want to support you, where … some of their more conservative, religious-minded constituents, who vote straight ticket Democrat most of the time, would have trouble voting for you. What do you say to those politicians in Washington who want to get behind your candidacy but are nervous about this?"
Buttigieg: I"'d invite them to look at what happened in South Bend. I'm from a socially conservative community. When I came out, we didn't know what the effects would be. It was actually during an election year. Mike Pence was the governor of our state. He was popular at the time. And what happened was I won with 80% of the vote. What that tells you, I think, is that people, if you give them the chance, will evaluate you based on what you aim to do, what the results are, what the policies are. And I have every confidence that American voters, especially Democratic voters, will not discriminate when the opportunity comes up to choose the right leader for the future."
But speaking of South Bend and racial politics, Buttigieg will miss a planned appearance at a DNC LGBTQ gala in New York today, instead staying in South Bend to respond to an officer-involved shooting there early yesterday, per NBC's Josh Lederman.
NBC affiliate WNDU reports that officers were responding to reports of a suspicious person going through cars when a 53 year-old suspect allegedly approached an officer with a knife raised. The officer shot the suspect, who was transported to the hospital in critical condition and later pronounced dead.
On the campaign trail today: In DC today beginning at noon, Joe Biden, Julian Castro, Andrew Yang, Michael Bennet, Elizabeth Warren, Eric Swalwell, Bernie Sanders and Kamala Harris address the Poor People's Moral Action Congress… Swalwell, in Virginia, unveils his comprehensive framework for ending gun violence… And Kirsten Gillibrand and Amy Klobuchar speak at a DNC LGBTQ gala in New York.
Data Download: The number of the day is … 64 percent
Sixty-four percent.
That's the share of Democratic primary voters in our latest NBC/WSJ poll who say they are enthusiastic or comfortable with Elizabeth Warren, up from 57 percent in March.
A combined 27 percent say they have reservations about her candidacy or are very uncomfortable.
Compare that with voters' comfort levels with Warren's chief competitor on the left, Bernie Sanders.
A combined 56 percent are either enthusiastic or comfortable with Sanders, down from 62 percent in March. And 41 percent have reservations or are uncomfortable.
The Lid: All the world's a stage
Don't miss the pod from Friday, when we broke down who'll be on stage for the first and second nights of the Democratic primary debates later this month.
ICYMI: News clips you shouldn't miss
NBC's Alex Seitz-Wald looks at how old-fashioned retail politics in Iowa and New Hampshire have lost some of their oomph in a nationalized race.
POLITICO reports that Pete Buttigieg raised $7 million in April alone.
Monica Alba offers a good look at the infrastructure of Trump's 2020 campaign staff.
Trump's campaign is cutting ties with some of its own pollsters after some unflattering poll numbers leaked.
Trump says he wants to replace the ACA with "something terrific," but fellow Republicans are worried about the optics of putting out a plan.
Trump agenda: Can I get a witness?
House Democrats are eyeing a strategy to call witnesses who never worked in the White House, like Corey Lewandowski and Chris Christie.
Senate Republicans aren't pleased with the administration's side-stepping of their role in confirming top officials.
With China tariffs looming, some U.S. companies say it's not viable to buy American instead, the Wall Street Journal writes.
Don't forget: The White House and congressional leaders still need to figure out a spending deal.
2020: Biden, party of one
Trump and his campaign are signaling that they're ready for a scorched-earth re-election drive, with little regard for norms.
Democratsare getting ready to launch a huge anti-Trump ad campaign.
Here'sa challenge for progressives: Attack Biden without attacking Obama.
Joe Biden is campaigning likeit's a primary of one.