O.J. Simpson joins Twitter, says 'I got a little gettin' even to do'
Comments
By Janelle Griffith with NBC News U.S. News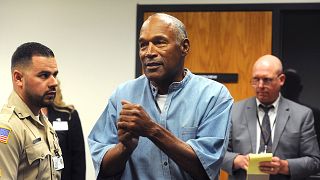 Copyright

Jason Bean Pool via Getty Images file

-
O.J. Simpson joined Twitter with a video post in which he said he's "got a little gettin' even to do."
The infamous former football star created an account Friday with the username @TheRealOJ32. His bio reads: "If you don't see it here, I didn't say it."
In his inaugural video tweet, which has been viewed more than 9 million times, Simpson said that there are "a lot of fake O.J. accounts out there," adding that this one would be official. He said Twitter users would get to read all his "thoughts and opinions on just about everything."
"This should be a lot of fun," said Simpson, 71. "I've got a little gettin' even to do."
In a second video tweeted on Saturday, Simpson said he loved learning how to use Twitter.
"You know for years people have been able to say whatever they wanted to say about me with no accountability," he said. "But now I get to challenge a lot of that B.S. and set the record straight."
The Heisman Trophy winner, who was acquitted in 1995 in the murders of his ex-wife, Nicole Brown Simpson, and her friend, Ronald Goldman, said he will "be able to talk about everything, especially sports and fantasy football and even politics." Nicole Brown Simpson and Goldman were stabbed to death on the night of June 12, 1994. The murder case is officially listed as unsolved.
Simpson was released from prison in October 2017 after serving nine yearsfor a robbery-kidnapping conviction in Las Vegas related to a botched sports memorabilia heist.
In a recent interview with the Associated Press, Simpson said neither he nor his children want to look back on the night his ex-wife and Goldman were murdered.
"We don't need to go back and relive the worst day of our lives," Simpson said. "The subject of the moment is the subject I will never revisit again. My family and I have moved on to what we call the 'no negative zone.' We focus on the positives."
Fred Goldman, father of Ron Goldman, marked the 25th anniversary of his son's death last week by telling NBC News he still believes Simpson is guilty of the murders. He said that Simpson going to prison, or even death row, for killing Ron Goldman and Nicole Brown Simpson"would have been real justice."