'Really dangerous stuff': Top elections cop warns of foreign governments' efforts to meddle
Comments
By Adam Edelman with NBC News Politics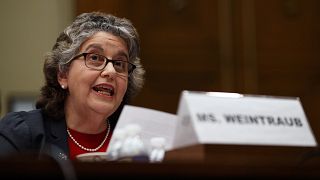 -
Copyright

Carolyn Kaster AP file
The top U.S. campaign finance official said Friday she's "gravely concerned about the efforts of foreign governments to try to intervene" in American elections and issued a fresh warning that 2020 candidates, including President Donald Trump, are barred from accepting "anything of value" from foreign nationals and governments.
In an exclusive interview with MSNBC's "Morning Joe," Federal Election Commission Chair Ellen Weintraub, said the law governing the issue is "pretty straightforward."
"Anyone in the United States is not allowed to accept anything of value from a foreign national. Particularly a foreign government in connection with an election," Weintraub said.
Her comments came just days after Trump said he'd consider taking information on opponents from other countries.
While Weintraub said she was not responding to "any particular candidate," she added that she was "gravely concerned about the efforts of foreign governments to try to intervene in our election, to try and undermine our democracy."
"The foreign governments that we have seen very bad actions from in the past are not likely to cease their efforts going forward unless the entire American government speaks with one voice and says this is unacceptable and we're not going to put up with it," she said.
"This is not an attempt for someone outside of the country to exercise some right to voice their opinion, they're trying to undermine our democracy, they're trying to sow chaos, they're trying to make Americans feel disenchanted with our democracy and not bother to go to the polling stations in some cases," Weintraub added. "This is really dangerous stuff."
Trump told ABC's George Stephanopoulos in an interview excerpt that aired Wednesday that he thinks he'd "take it" if a foreign government came to him and offered dirt on an opponent. The comment arose while the men were discussing why the president's son, Donald Trump Jr., didn't go to the FBI after he spoke with a Russian lawyer at Trump Tower during the 2016 presidential election.
On Thursday night, Weintraub posted a letter to Twitter, cautioning in clear language that it's against the law to accept "anything of value" from foreign governments and individuals related to an election.
"This is not a novel concept. Electoral intervention from foreign government has been considered unacceptable since the beginning of our nation," she wrote.
Meanwhile, Trump appeared to walk back his original comments in an interview with Fox News on Friday, saying that he'd only "look at it" to determine if it's "bad," but then, give it to law enforcement.
"I don't think anybody would present me with anything because they know how much I love the country," Trump said. "If I was and, of course, you have to look at it, because if you don't look at it you won't know it's bad, but, of course, you give it to the FBI or report to the attorney general or somebody like that."
"If I don't listen, you are not going to know. If I thought anybody was incorrect or badly stated I'd report it to attorney general, the FBI, I'd report it to law enforcement," he said.