How Trump built the outrage wheel
Comments
By Chuck Todd and Mark Murray and Carrie Dann with NBC News Politics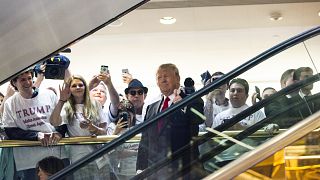 Copyright

Christopher Gregory Getty Images file

-
WASHINGTON — Sunday marks the fourth anniversary of Donald Trump descending that escalator and stunning the political world by saying that Mexico sends rapists across the border.
And it's been pretty much the central theme of his four years on the political stage: Say/do something controversial … Country reacts in outrage … Say/do another thing … Country reacts in outage, forgetting that first controversy.
Wash. Rinse. Repeat.
Consider last week's dispute: Trump's "Blazing Saddles" move on Mexico tariffs ("Nobody move … or the United States gets it").
Remember that?
This week ends with another outrage: Trump admitting that he'd accept dirt — again — from a foreign government.
This controversy-to-controversy-to-controversy cycle has been one of the president's biggest weaknesses.
It's why, after all, his approval rating is stuck in the low 40's when the unemployment rate is at 3.6 percent.
But it's also one his strengths: The controversy/outrage always changes, and it becomes easy to forget what last week's controversy/outrage was.
The political world still doesn't know how to handle this wheel of outrage.
And Democrats don't know, either…
The Mueller report plays out over the last 48 hours
If you want to retell what's in the Mueller report, all you need to do is interview the president of the United States.
So first came President Trump's admission to ABC that he'd accept dirt from a foreign government again, underscoring the report's Volume I about Russia's interference in the 2016 election and how the Trump campaign welcomed that help.
And now in the latest installment of ABC's interview with Trump, the president said he was never going to fire Robert Mueller - the subject matter that's in Volume II of the report on whether there was obstruction of justice.
But you have to read the entire exchange:
Trump: "No special counsel should have ever been appointed. You know why? 'Cause there was no crime. They had no-- [cross talk] excuse me, they had no evidence of crime."
Stephanopoulos: "He lays out a lot of evidence, including the episode where your White House Counsel Don McGahn, you tell him, 'Mueller has to go.' You call him twice and say, 'Mueller has to go. Call me when it's done.'"
Trump: "Okay, now the story on that very simply: number one, I was never gonna fire Mueller. I never suggested firing Mueller."
Stephanopoulos: "That's not what he says."
Trump: "I don't care what he says. It doesn't matter. That was to show everyone what a good counsel he was."
Stephanopoulos: "Why would Don McGahn lie — why would he lie under oath — why would he lie under oath to Robert Mueller?"
Trump: "Because he wanted to make himself look like a good lawyer. Or, or he believed it because I would constantly tell anybody that would listen, including you, including the media, that Robert Mueller was conflicted. Robert Mueller had a total conflict of interest."
Stephanopoulos: "He has to go."
Trump: "I never -- I didn't say that."
After reading that, is there any doubt that the best advice Trump ever got was to avoid a sitdown interview with Mueller?
Biden pledges not to accept foreign interference
Yesterday we asked how Democrats would respond to Trump's admission that he'd be willing to use foreign interference again.
Play by the rules and possibly lose? Or play the same game your opponent is playing?
Well, Joe Biden released his answer in a new video, per NBC's Mike Memoli.
"Folks, this is simple. American elections should be decided by the American people and not by Russian or any other foreign power," Biden says.
"I won't be part of any attempt to undermine our democracy or public confidence in our institutions."
Tweet of the day
2020 Vision: The debate field is set
The Democratic National Committee on Thursday named the 20 participants who qualified for the first Dem debates on June 26-27. In alphabetical order:
Michael Bennet, Joe Biden, Cory Booker, Pete Buttigieg, Julian Castro, Bill de Blasio, John Delaney, Tulsi Gabbard, Kirsten Gillibrand, Kamala Harris, John Hickenlooper, Jay Inslee, Amy Klobuchar, Beto O'Rourke, Tim Ryan, Bernie Sanders, Eric Swalwell, Elizabeth Warren, Marianne Williamson, and Andrew Yang.
Two elected Democratic politicians didn't make the cut: Montana Gov. Steve Bullock and Rep. Seth Moulton, D-Mass.
"If I had to choose between chasing 100,000 donors or getting healthcare for 100,000 Montanans — well, that's the easiest decision I'll ever have to make," Bullock responded in a statement, referring to his late entry into the 2020 field due to expanding Medicaid in his state.
"While 20 candidates are on the debate stage in Miami, I will be talking directly to voters about my record of passing progressive priorities in a state Trump won, the importance of winning the places we lost, and how we are going to beat Donald Trump once and for all."
On the campaign trail today
Elizabeth Warren, Kirsten Gillibrand and Andrew Yang stump in New Hampshire… Beto O'Rourke is in South Carolina… Kamala Harris campaigns in Nevada… Julian Castro visits Iowa… And Pete Buttigieg holds a grassroots event in Alexandria, Va.
Data Download: The number of the day is … 94
That's the number of days between Sarah Sanders' final formal press briefing (on March 11) and yesterday's announcement that she will be leaving the White House.
The March 11 briefing was only the second such formal Q&A session of 2019.
The 94-day gap nearly doubles the previous longest stretch without a White House briefing during the Trump administration. The previous record was 42 days, between the January 28 and March 11 briefings.
The Lid: Say cheese
Don't miss the podfrom yesterday, when special guest star Alex Seitz-Wald described why the 2020 candidates are spending so much time on ... selfies?
ICYMI: News clips you shouldn't miss
In an exit interview, Sarah Sanders told NBC Newsthat she has no regrets about her tenure at the White House.
Can a candidate matter even WITHOUT a debate spot?
POLITICO notes how 2020 Democrats are taking trips to red states to talk about electability.
Progressive Dem Betsy Sweet is in the race to take on Susan Collins.
Trump agenda: Tough spot
The conflict in the Gulf puts Trump in a difficult position on Iran, the New York Times writes.
Nancy Pelosi weighed inon Trump's comments about election interference.
Here's how Mexico is trying to reinforceits southern border.
2020: Firing up the flux capacitor
NBC's Jonathan Allen writes that Biden's "Back to the Future" pitch is also his biggest vulnerability.
Anita Hill saysshe'd be open to voting for Joe Biden.
John Hickenlooperisn't backing downon his attacks on Bernie Sanders and socialism.
In a FOX News town hall, Julian Castro took on the network's focus on Hillary Clinton.
NBC's Jordan Jackson reportson Kamala Harris's newest grassroots backers in South Carolina.
Tulsi Gabbard is doubling down on her pitch against "neocon war hawks."