'I think I'd take it': Trump says he'd accept dirt on an opponent from a foreign government
Comments
By Doha Madani with NBC News Politics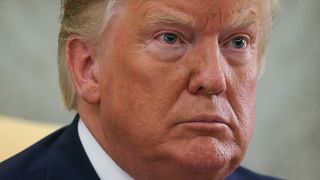 Copyright

REUTERS/Leah Millis
President Donald Trump said in an interview excerpt aired Wednesday that he might take help from a foreign government offering information on an opponent.
Trump made the comment to ABC's George Stephanopoulos while discussing why his son, Donald Trump Jr., didn't go to the FBI after he spoke with a Russian lawyer at Trump Tower during the 2016 presidential election.
Trump Jr. spoke to Congress for three hours Wednesday to discuss answers he gave in an interview to the Senate Intelligence Committee in 2017, including those regarding emails leading up to the meeting which promised dirt on Democrat Hillary Clinton, Trump's opponent.
The president told Stephanopoulos that "life doesn't work that way" when asked why his son didn't go to the FBI. Trump also said he would want to hear if another country had information on another candidate and called it "oppo research."
"It's not an interference, they have information," Trump said. "I think I'd take it. If I thought there was something wrong, I'd go maybe to the FBI.
"Stephanopoulos then pointed out that FBI Director Christopher Wray said his agency should know about contacts from foreign governments."The FBI director is wrong," Trump said.
Trump was at the center of a two-year probe of Russian election meddling and possible obstruction conducted by Special Counsel Robert Mueller. 
The 448-page report, released in April, avoided making a decision on obstruction, but Mueller did conclude that there was Russian interference in the 2016 election.
"There were multiple, systematic efforts to interfere in our election. That allegation deserves the attention of every American," Mueller said at a May press conference.