'They're all pretty awful prospects' - Scotland's Sturgeon on Tory candidates
Comments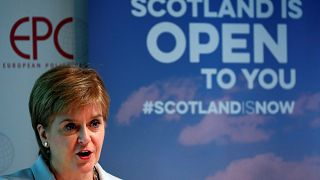 As the ten remaining candidates for the Conservative leadership in Westminster make their pitches inside parliament, Scotland's first minister did not wish to endorse any of them.
In an interview with Euronews' political editor Darren McCaffrey, Nicola Sturgeon said of the ten, "they're all, I think, pretty awful prospects."
"Boris Johnson, Michael Gove, Dominic Raab, these are all people who misled the UK in the Brexit referendum," Sturgeon went on.
"These are the people whose red-line positions, hard-line positions have contributed to the mess the UK is in right now."
'Scotland wants to remain a European country'
Sturgeon reiterated her party's call for Scottish independence saying the country should be able to choose the direction it takes itself in "rather than have someone like Boris Johnson dictate it for us".
She said she was in Brussels was to hammer home the message that Scotland "wants to continue to be a European country, right at the heart of the European family of nations", a fact that she says the population demonstrated in the EU referendum and EU Parliamentary elections.
The leader added that she was interested in finding out what the European Commission's thinking was on Brexit amid uncertainty in the UK.
When asked by McCaffrey if she could identify EU leaders who supported an independent Scotland, Sturgeon replied that she wouldn't ask them to take sides on any domestic issue in other member states.
She said there had been a "sea change" in the attitude of European institutions since 2014, adding she thought there was "a much deeper understanding of the arguments for independence".
"Name one EU leader that has said they would try to block an independent Scotland if Scotland took that democratic decision from joining the EU," the Scottish leader reasoned.
'Those in elected positions had a duty to work with other leaders'
On the subject of US President Donald Trump's visit to the UK and the mixed reaction from political leaders, she said those in elected positions had a duty to work with other leaders in the best interests of the country.
"I would have to do that with whoever is prime minister," the first minister added, "but that doesn't mean I politically agree with them."
I think there's a degree of hypocrisy on Michael Gove's position on drugs
When asked about a recent admission by Tory Michel Gove that he had taken cocaine on "several occasions" over 20 years ago, Sturgeon said it mattered but that she tried not to have a knee-jerk reaction.
READ MORE: Michael Gove leadership campaign falters after cocaine admission
She added that as education secretary, Gove put in place rules that would apply to teachers taking Class A drugs, which meant there was a "degree of hypocrisy in his position".
She called her use of cannabis in her youth "silly".
Watch highlights from the interview in the video payer above.
Want more news?