Biden, Yang feud over former VP's absence from candidate forum
Comments
By Allan Smith with NBC News Politics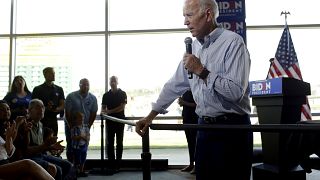 Copyright

Joshua Lott Getty Images

-
Former Vice President Joe Biden and fellow Democratic presidential candidate Andrew Yang continued to trade barbs Tuesday in a feud that began with Yang blasting Biden for skipping a major Democratic event in Iowa on Sunday.
It was at that event, the Iowa Democratic Party's Hall of Fame dinner in Cedar Rapids, where Yang criticized Biden for failing to be in attendance. Biden said he skipped the gathering to attend his granddaughter's high school graduation.
"When I saw the program for today, I thought the same thing you all did, which is this: Joe Biden must really not like to travel," Yang said.
Nearly 20 Democratic candidates were at the event, and Biden has come under some criticism early in the cycle for having a lighter campaign schedule than some of his Democratic rivals. In response to Yang's remark, Biden said his family was more important than a brief speaking engagement.
"One of my competitors criticized me for not going to Iowa to talk for five minutes," Biden said Monday, not mentioning Yang's name. "My granddaughter was graduating. It was my daughter's birthday. I would skip inauguration for that."
Biden continued the back-and-forth on Tuesday during his own Iowa event.
"To me, I have to admit to you, this particular person said he would've been there," Biden said. "Well I have different values than him. It's family, family, family. I make no apologies for not showing up and speaking for five minutes. Especially when I have almost eight months to come and talk to you all. But I would not miss my granddaughter's graduation. I think all those of you of Iowa values, you wouldn't all either."
Yang responded on Twitter soon after, saying that missing family obligations is "what happens when you run for President."
Biden is the early Democratic frontrunner, while Yang is polling at around 1 percent in most surveys. However, Yang, a businessman who has never held public office, has run a surprising upstart campaign. He qualified for the initial debate by hitting both fundraising and polling requirements and faring better in the primary's early months than some of his more notable competitors.