Justice Breyer: Supreme Court should decide if 'perpetual detention' permitted at Gitmo
Comments
By Pete Williams with NBC News Politics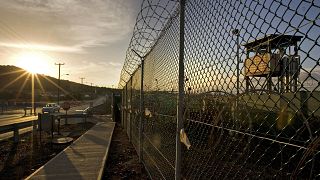 Copyright

Brennan Linsley Pool via AFP - Getty Images file

-
WASHINGTON — Stephen Breyer said on Monday that the Supreme Court should take another look at whether the court's earlier rulings regarding enemy combatants at Guantanamo Bay allow "perpetual detention."
Breyer dissented when the court denied an appeal from a Gitmo detainee, Moath Hamza Ahmed al-Alwi, a man from Yemen captured by Pakistani forces and accused of being one of Osama bin Laden's bodyguards and fighting against US forces. He has challenged his open ended detention.
In 2004, the Supreme Court ruled that Congress gave the president authority to detain enemy combatants for the duration of the relevant conflict. But, Breyer noted, the court's majority said its understanding of what Congress allowed might change if circumstances changed and detention had no prospect of ending.
"It is past time to confront the difficult question left open" by that earlier ruling, Breyer said. "Al-Alwi faces the real prospect that he will spend the rest of his life in detention based on his status an enemy combatant a generation ago, even though today's conflict may differ substantially from the one Congress anticipated."
The court should address whether "Congress has authorized and the Constitution permits continued detention."
The court rejected al-Alwi's appeal by an apparent vote of 7-1, with Breyer the sole dissenter. Justice Brett Kavanaugh did not participate, because the case came to the court from the Court of Appeals for the DC circuit, on which he served.