Congress this week: John Dean, subpoena vote, rare open counter-intelligence hearing
Comments
By Rebecca Shabad and Alex Moe with NBC News Politics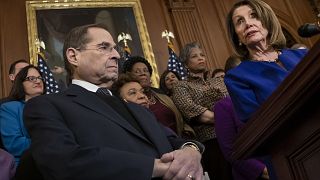 Copyright

J. Scott Applewhite AP file

-
WASHINGTON — House Democrats this week will take their most forceful steps yet since taking the majority against President Donald Trump and his administration as they vote on a contempt resolution, invigorate their subpoena power and hold a key congressional hearing on the Mueller report.
House Speaker Nancy Pelosi, D-Calif., has faced growing pressure from lawmakers to ramp up their oversight of the president and his administration, with 60 Democrats — more than a quarter of the caucus — pushing for the House Judiciary Committee to open a presidential impeachment inquiry, a push that's sparked divisions among some top members of the caucus.
The latest moves follow weeks of impeachment chatter within the House Democratic caucus and internal discussion about how to proceed with holding the president accountable for what many of them say are crimes of obstruction of justice raised by the 448-page Mueller report, and special counsel Robert Mueller's statement that if his team had had confidence "that the president did not commit a crime, we would have said so."
The plan for the full House to vote to enforce the subpoenas for Attorney General William Barr and former White House counsel Don McGahn comes after both failed to comply with congressional subpoenas to offer testimony and documents requested by Democrats.
On Monday at 2 p.m. ET, the Judiciary panel will hold the first of a series of hearings on the Mueller report — though the star witness himself won't be present. Mueller, who had been negotiating with the committee about providing testimony about his two-year investigation to Congress, recently made clear that does not want or plan to speak further about the investigation. Still, House Judiciary Committee Chairman Jerry Nadler, D-N.Y., said last week that he's "confident" the special counsel will come speak to Congress soon — and is prepared to soon issue a subpoena to compel him, if necessary.
For the time being, John Dean, who served as White House counsel to President Richard Nixon and played a key role in the Watergate hearings in the 1970s, will testify at the Monday hearing along with former U.S. attorneys and legal experts.
"Given the threat posed by the president's alleged misconduct, our first hearing will focus on President Trump's most overt acts of obstruction. In the coming weeks, other hearings will focus on other important aspects of the Mueller report," Nadler said when he announced last week the plan to hold multiple hearings.
Rep. Doug Collins, R-Ga., the top Republican on the Committee blasted Chairman Nadler on Friday over the session, saying it "appears to be part of a strategy to turn the Committee's oversight hearings into a mock-impeachment inquiry rather than a legitimate exercise in congressional oversight."
Separately, the House Intelligence Committee will hold a rare open hearing on the counterintelligence implications of the Mueller report, in which Stephanie Douglas and Robert Anderson, former executive assistant directors of the FBI's national security branch, are scheduled testify.
"Our Committee's goal will be to explain to the American people the serious counterintelligence concerns raised by the Mueller Report, examine the depth and breadth of the unethical and unpatriotic conduct it describes, and produce prescriptive remedies to ensure that this never happens again," Intelligence Chairman Adam Schiff, D-Calif., said in a statement announcing the hearing.
On Tuesday, the House will vote on a resolution to enforce the subpoenas for Barr and McGahn. The Judiciary Committee had voted in early May to advance a measure to hold Barr in contempt after Trump exerted executive privilege over the unredacted version of the Mueller report. The committee vote was the "culmination of nearly three months of requests, discussions and negotiations with the Department of Justice," Nadler said at the time, for the report and its underlying evidence.
McGahn, meanwhile, defied a separate subpoena last month, at Trump's direction, that had called on him to testify before the Judiciary Committee. McGahn's decision not to appear at the hearing became the tipping point for many members frustrated with the administration's efforts to block their oversight activities, triggering a chain of individual lawmaker announcements in favor of an impeachment inquiry.
The contempt resolution authorizes Democrats, with the assistance of the House general counsel, to go to court and enforce the subpoenas issued for both men. Separately, the measure includes language that would reaffirm the authority that House committee chairs have to expedite going to court to enforce their subpoenas.
Democrats have issued at least 25 subpoenas this year targeting the Trump administration. Administration officials again defied Democrats' subpoena power late last week when Barr and Commerce Secretary Wilbur Ross failed to produce documents to the House Oversight Committee regarding the citizenship question on the 2020 census.
Oversight Chairman Elijah Cummings, D-Md., has said that he plans to move forward with holding both officials in contempt. "We gave Attorney General Barr and Secretary Ross every opportunity to produce the documents the Committee needs for our investigation, but rather than cooperate, they have decided that they would rather be held in contempt of Congress," he said in a statement. "They produced none of the documents we asked for, they made no counter-offers regarding these documents, and they seem determined to continue the Trump Administration's cover-up."
The latest Democratic moves take place amid the backdrop of rising caucus divisions over the presidential impeachment process itself. Pelosi said in a meeting last week with committee chairs that her party should not proceed with impeachment, because they would be better off having Trump lose re-election in 2020 and have him prosecuted.
"I don't want to see him impeached, I want to see him in prison," Pelosi said in the meeting, a congressional aide in the room told NBC News.
Nadler has reportedly has been pushing for impeachment, a push that has not not been independently confirmed by NBC. In an interview last week with CNN's Wolf Blitzer after the meeting with the speaker, Nadler was asked if he and Pelosi were reading from the same impeachment playbook.
Nadler paused, then responded without directly addressing the question. "As I said, we are launching an inquiry now, and whether we launch an impeachment inquiry, it may come to that. It may come to that," he said.
Asked if he would open a formal impeachment inquiry without Pelosi's endorsement, Nadler didn't rule it out.
"I think that if — when that decision has to be made, it will be made not by any one individual, it will be made probably by the caucus as a whole. Certainly, Nancy will have the largest single voice in it; various committee chairmen and rank-and-file members [will too]."
Meanwhile, House Financial Services Committee Chairwoman Maxine Waters, D-Calif., who did not attend the speaker's meeting and has long called for Trump's impeachment, downplayed the prospect that a confrontation is brewing among Democratic leaders.
"Oh, the press would love to have a confrontation. There is none," Waters said. "As a matter of fact, she is the Speaker with a responsibility for keeping that caucus together and making sure we are as strong as we can possibly be and so that is her challenge. That is her job and she's working on that and there is no division among the six investigative committees, of which I am one."