Kamala Harris ramps up in early primary states
Comments
By Vaughn Hillyard with NBC News Politics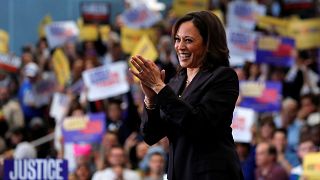 Copyright

Mike Blake Reuters

-
WASHINGTON — California Sen. Kamala Harris's presidential campaign is ramping up her presence in the early 2020 primary states, with plans to have 65 paid staffers on the ground in Iowa by the end of June, campaign aides confirm to NBC News.
Harris, to date, has not met the frenzied pace often seen by presidential candidates in the early voting states of Iowa, New Hampshire, Nevada and South Carolina — she has visited just 5 of Iowa's 99 counties so far, for example. But her effort is growing in size ahead of the first presidential debates in just under three weeks and the campaign tells NBC News that it has a long-term plan in place that will see an increase in her own on-the-ground presence by Labor Day.
"We are ramping up our ground game in all four early states because we know she can compete everywhere," said Juan Rodriguez, Harris' campaign manager, who also led her 2016 Senate campaign. "The more people get to know Kamala Harris, the more they like her, and the next few months will crystallize that she's the candidate best suited to win this primary and defeat Donald Trump."
Ian Sams, a spokesman for the campaign, acknowledged to NBC News that it has so far maintained a "really lean" operation compared to other candidates in the early states, where wooing and gaining the commitment of voters amid a field of 20-plus candidates is historically critical.
The candidate's lowered presence in Iowa compared to several other top contender is something that hasn't gone unnoticed by political operatives there.
"I think she needs to be in the hinterland. I don't hear anything about her out here," said Tom Courtney, the chairman of the Democratic Party's local organization in Des Moines County, whose 90-percent white electorate sided with Barack Obama over Hillary Clinton and John Edwards in 2008. "We haven't seen her here — I think that's a big mistake," Courtney said.
But Matt Paul, the Iowa Democratic strategist who ran Hillary Clinton's victorious Iowa operation in 2016 said there's more to capturing the nomination than just winning Iowa, saying top candidates "can walk and chew gum at the same time. And the job they're running for demands it."
Paul said Harris' light schedule in Iowa to date is not reason for concern, suggesting the campaign should "let this race settle down and be in position come Labor Day to begin to capture it."
"These schedules are living real time strategic decisions--they can't be in all places at all time," Paul said. "They have to make decisions on the candidate's schedule for the long term. Right now, I think that's having the resources to go the distance [by holding fundraisers] and hit the debate stage well prepared in Miami."
Laying out a national campaign
Even beyond those early states, Harris has maintained a relatively low-key public schedule.
While former Texas Rep. Beto O'Rourke has engaged in more than 150 town halls since his mid-March launch and Sen. Elizabeth Warren, D-Mass., recently touted answering her four-hundredth town hall question, Harris has made just over 50 public campaign stops.
Sams said Harris will to continue a deliberate introduction of the candidate to the wider national electorate through the summer.
The calendar could work in her favor if Harris can emerge from Iowa and New Hampshire in good shape because the race shifts to South Carolina and into other southern states with large numbers of African American Democratic primary voters and her home state of California. So she will continue to make stops across the early states but also lay groundwork across the broader map, like Alabama, where she will visit on Friday and Saturday.
Harris has been one of the few candidates regularly polling between in the high single-digits and low double-digits nationally in the divided field. That's put her consistently toward the front of the pack but comfortably behind both Biden and Sanders.
It's a similar story in fundraising too — Harris' $12 million raised from individuals in the first fundraising quarter was more than every other candidate except Sanders (Biden had not yet announced yet).
Yet voters routinely say they either don't know much about her or want to hear more.
"I'm not sure how to say her name, but she sounds very interesting," Katarina Lopez of Greenville, South Carolina, told NBC News last week.
Jayna Campbell, a waitress in Greenville, said she presently backs Sen. Bernie Sanders, I-Vt., after voting for Clinton in 2016. But when asked about Harris, she replied: "Kamala Harris — haven't heard of Kamala Harris. Is he representing the Democratic Party or an Independent?"
"I don't know that much about her," Virginia Democrat Gini Parker told NBC News last week when asked about Harris. "If you have a pamphlet, I'll take it."
Asked who she currently plans to vote for, Parker offered, "Biden," quite declaratively, in support of the former vice president.
In a poll released this week by Morning Consult, 21 percent of Democratic voters responded that they had never heard of Harris, and an additional 16 percent said they had heard of but held no particular opinion about her. Just 8 percent and 10 percent of the electorate say the same about Biden and Sanders, respectively.
On the campaign trail, Harris is presenting herself as a strong general election candidate — one amenable to a broad cross section of the American electorate — in an effort to quell concerns about her viability in a mano-a-mano faceoff with President Trump.
"Let's not buy what some people are trying to sell — I'm not buying a conversation about, 'Oh, when you go to the Midwest, you need to have one conversation, and when you go to the South, you have a different conversation — when you go to the coast, you have a different conversation,'" Harris said in front of several hundred in Greenville, South Carolina, last week.
Harris' campaign team includes a cadre of former Hillary Clinton advisers and staffers, including the candidate's sister, Maya Harris, who worked for Clinton as a senior policy adviser. But unlike Clinton, they are shepherding a candidate that Americans are only now becoming familiar with.
South Carolina voter Mark Monaghan told NBC News last week that he was at a pool party, when another man asked him, "'Kamala Harris? Is she a singer?' And I just looked at him gobsmacked: 'She's a presidential candidate!'"
Monaghan continued, "I'm just thinking her name recognition hasn't reached this guy. And he's not a dumb man."