U.S. man fatally shot at border believed to have been smuggling Chinese men
Comments
By Phil Helsel with NBC News U.S. News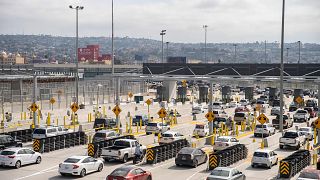 Copyright

Ariana Drehsler AFP - Getty Images

-
A 23-year-old U.S. citizen killed in a shootout with agents at a Southern California border crossing is believed to have been attempting to illegally bring two Chinese nationals into the U.S., Customs and Border Protection said Wednesday.
San Diego police identified the person killed in the Monday night shooting at the San Ysidro Port of Entry between San Diego and Tijuana, Mexico, as Travis James Eckstein of Beaumont, California.
Officials said he drove his pickup truck from Mexico into the U.S. and failed to stop for an inspection, then fired out of the vehicle and then got out of the vehicle and fired at border agents, who returned fire and killed him. None of the seven CBP officers involved were injured.
Customs and Border Protection said in a statement that two Chinese men, aged 18 and 27, were found "secreted inside the subject's vehicle" and that they had no legal status to enter the U.S.
San Diego police said they were found in the rear of the truck and were not injured in the shooting.
"The CBP officers risked their own lives to protect the public from this gunman," CBP Director of Field Operations Pete Flores said in a statement. "Human smuggling is always dangerous. This unfortunate incident demonstrates the total disregard smuggling organizations have for what they consider to be cargo."
Authorities said CBP officers and San Diego Fire-Rescue personnel attempted life-saving measures, but Eckstein, who was shot, died.
Video captured the sound of gunfire and officers taking cover during Monday's incident. A witnesstold NBC San Diego that she was terrified and jumped in the back of her vehicle to be with her children in the car.
The San Ysidro Port of Entry is the busiest in the Western Hemisphere, with around 70,000 northbound vehicles processed each day, according to the federal General Services Administration's website.
San Diego police said they are continuing to investigate the shooting. Customs and Border Protection said it was also conducting an internal investigation.
Eckstein's family members could not immediately be reached Wednesday evening. Beaumont is a city of around 36,800 east of Los Angeles.
Customs and Border Protection did not say in Wednesday's statement what happened to the two Chinese men who were found after the shooting, and a request for comment was not immediately answered Wednesday evening.
San Diego police said the Chinese men were interviewed and turned over to CBP officers.