European Commission concludes that Italy is breaching EU fiscal rules
Comments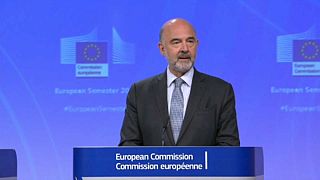 Time is running out for Italy after the European Commission concluded that the country is breaching the EU's fiscal rules because of its ballooning public debt.
The European Council will consider whether to start an "excessive deficit procedure" against Rome which could result in billions of euros in fines.
"Of course, as always, with all member states, we are ready to look at new data that could change this analysis. So my door remains open," said European Commissioner for Economic and Financial Affairs Pierre Moscovici.
The latest clash between Rome and Brussels follows comments by Italy's deputy prime minister Matteo Salvini where he called the EU's budget rules "obsolete," as his government plans to introduce major tax cuts to combat poverty, but these will increase the deficit.
Italy had a public debt at 132% of GDP in 2018, which is well above the limit of 60% set by the EU.
"Moscovici must understand that the approach of threats is not the right one. Threatening 5 million poor people in Italy is not the right approach. He must try with this government to create Italian and European solutions that will help 5 million poor people and the country to grow," said Angelo Ciocca, an MEP with Italy's right-wing League party.
In order to avoid sanctions, Italy is required to reduce its budget by about 3-4 billion euros. But the government must act quickly. Representatives of member states have two weeks to decide if they will approve the European Commission's decision.
"The situation of Italy within the Council is at the moment one of isolation, instead of support. We know from the past that there is quite a lot of reluctance by member states and governments in general to punish other fellows, but this time alliances may be a bit more difficult," said Cinzia Alcidi, Head of the Economic Policy Unit at the Centre for European Policy Studies (CEPS) in Brussels.
The country's fate will depend on Rome's ability to negotiate with the Commission. That's a tough task for the government as the parties that constitute it disagree on many issues, one of which is the application of the European Union's fiscal rules.