AOC gets it wrong on tweet about Manafort 'solitary confinement'
Comments
By Allan Smith and Rich Schapiro with NBC News Politics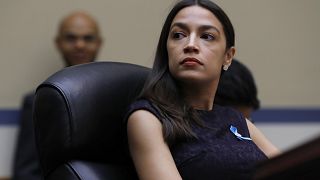 Copyright

Jacquelyn Martin AP

-
Rep. Alexandria Ocasio-Cortez, D-N.Y., tweeted Wednesday in opposition to Paul Manafort potentially being held in "solitary confinement" — but NBC News is reporting that is not the case and that if he is transferred he would be given his own cell, which is for his safety, not punishment like solitary.
The New York Times story that Ocasio-Cortez cited, which raised the possibility he could be sent to Rikers Island, had no mention of solitary confinement, only isolation, and noted that high-profile inmates are sometimes placed into "protective custody" for their own safety from the general prison population.
Manafort's impending transfer from a minimum-security federal prison in Pennsylvania to New York City is because of state mortgage fraud charges the Manhattan district attorney filed against him earlier this year to better ensure that Trump does not pardon his former campaign chairman, who is serving a seven-and-a-half-year federal prison sentence, of his earlier conviction.
Last year, Manafort was convicted on federal bank fraud, tax and conspiracy charges in two related cases.
The New York Times reported Tuesday that Manafort is expected to be transferred to Rikers Island in New York within a few weeks, where he will most likely be held in isolation, multiple sources said.
But Manafort's transfer to Rikers Island is not assured, NBC News reported. A person familiar with the case said his transfer could happen this month, but no date or decision has been reached. Should he be transferred to New York City, Manafort also has several options for where he can be held in addition to Rikers Island.
Nevertheless, Manafort would not be in "solitary confinement," a New York City Department of Corrections official told NBC News. Manafort may be held in isolation for protective reasons, but that would not carry the same conditions as being held in solitary confinement, which is a punitive designation.
Ocasio-Cortez's office had no comment on her tweet.
Manafort's attorney Todd Blanche told NBC News on Tuesday he expects his client to be arraigned in New York next week, saying Manafort had hoped to stay at the Pennsylvania facility Loretto. Blanche said he is not sure where his client will be held in New York City, and that there had been no mention of Rikers Island.
"He's a 70-year-old man and he spent the last year of his life in solitary confinement. I think having him spend his time in Loretto, where he's in general population and his family can visit him, is a much fairer and appropriate result for him," Blanche said.
On Tuesday, New York City Mayor Bill de Blasio, a 2020 presidential candidate, assured in a press conference that Manafort will "be treated, as much as humanly possible, like any other inmate, and would have the same rights and responsibilities," if he is transferred to Rikers Island.
"Obviously there are safety questions that have to be attended to," he said.