Trump baby blimp flies above London as thousands protest leader's visit
Comments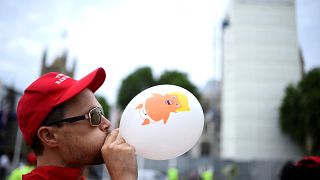 A giant balloon depicting US President Donald Trump as a pouting baby will be flying over the British parliament on Tuesday as the US commander-in-chief meets UK Prime Minister Theresa May for talks in Downing Street.
The city is expecting a large-scale protest against the foreign leader.
Trump and first lady Melania arrived in the UK on Monday for a three-day state visit.
"We're sending a very clear message of solidarity to those affected by his despicable politics – and saying loud and clear that the US president doesn't deserve the red carpet treatment," said Ajuub Faraji, one of the people organising for the blimp to be put up.
The blimp was flown before during Trump's last visit to the British capital.
Fewer people protest against Trump this visit
Even if thousands of people have protested Trump's state visit, numbers are far down from the tens of thousands that demonstrated last year when he visited the UK.
Protesters gathered in Trafalgar Square at what they called a "Carnival of Resistance". The rally will later be attended by opposition Labour Party leader Jeremy Corbyn.
Trump is one of the least-liked foreign leaders in Britain, with only 21% of people having a "positive opinion" of the US leader according to a YouGov poll. Among women, the figure went down to 14%.