Jose Antonio Reyes: Ex-Arsenal footballer 'dies in car accident in Spain'
Comments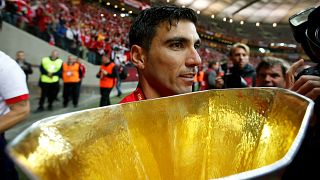 Former Arsenal winger Jose Antonio Reyes, 35, has died following a car accident, according to Spanish football club Seville.
We couldn't be confirming worse news," the club wrote on Twitter. "Beloved Sevilla star José Antonio Reyes has died in a traffic collision. Rest in peace."
He began his career at Seville before moving to Arsenal in 2004. He played for Spain at the 2006 World Cup and also turned out for Real Madrid.
Reyes signed for second-tier Spanish side Extremadura UD on a five-month deal in January 2019 after a spell in China.
Seville said Reyes died in a traffic accident on Saturday, June 1. They described him as one of the club's most valuable homegrown players.
He debuted with the club at just 16 years old, which Seville said was the youngest debut in the club's history.
Andalucía's emergency services tweeted that the traffic accident occurred on the A-376 in Alcalá de Guadaíra. According to Europa Press and local media reports, the car crashed around 11:40 am CET and caught fire.
Seville said in its press release that two of the footballer's cousins, Jonathan Reyes and Juan Manuel Calderón, had also died in the accident.
Former teammates said they were devastated by his loss including Thierry Henry who tweeted that Reyes had been taken far too soon.
His former club Arsenal said in a statement that Reyes "will always hold a special place in our hearts."
"He represented the club on 110 occasions, scoring 23 times and made memorable contributions to our 49-game unbeaten run," Arsenal wrote.
Reyes had five Europa League titles and was a Champions League runner-up with Arsenal.
Reyes is survived by three children and his wife Noelia Lopez.