Spain football match-fixing probe: Police target current and ex-La Liga players
Comments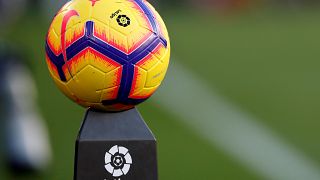 Spanish police say at least 11 people are expected to be arrested as part of a match-fixing probe focusing on current and former La Liga footballers as well as club presidents and managers.
Authorities believe there were attempts to rig at least three matches across Spain's top trio of divisions.
Police said the fixing of one third division game was unsuccessful but the players involved then tried to compensate by throwing another future match.
"Eleven people are expected to be arrested, including retired and active first division (La Liga) football players, active second division players, as well as club presidents and managers.
"The investigation has corroborated that the offenders reached agreements with different players to "fix" at least three matches corresponding to the first, second and third division."
A statement from La Liga commended the work of the police in "the dismantling of an organized group that has been carrying out a criminal activity dedicated to obtaining economic benefits through the predetermination of football matches in national territory".
The league singled out a match between S.D. Huesca and Gimnástic de Tarragona on 29 May 2018 for an alleged offence of sports corruption.
It added: "This police operation shows that the integrity protection systems implemented by LaLiga five seasons ago, to protect the cleanliness of all Spanish football competitions, have been effective in the detection and reporting of football matches allegedly manipulated, all of which has served as a basis and support for the development of investigations carried out by the National Police."
Ronaldo, the Brazil legend and owner of La Liga club Real Valladolid, took to Twitter to express his "anger, rage, frustration" at the news.