European Commission 'concerned' by resignation of Iranian foreign minister
Comments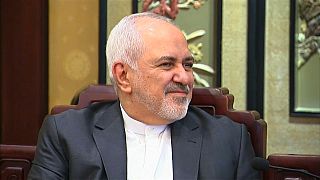 The European Union's foreign policy chief is "concerned" about the resignation of Iran's foreign minister and hopes it doesn't take effect, a source has told Euronews.
Federica Mogherini negotiated for months with Mohammad Javad Zarif to conclude a landmark nuclear deal with Tehran in 2015.
However, that deal has come under strain since Donald Trump withdrew from the accord with the EU coming under pressure to compensate Iran economically for the impact of renewed US sanctions.
Zarif announced on Twitter last night that he had asked to quit, but it is unclear whether his resignation will be accepted.
Mogherini "is concerned by the resignation of Mr Zarif. She's following the situation closely and she hopes it doesn't take effect," the source said. The person added that the EU's policy would not change regardless.
A majority of Iranian MPs have also indicated their support for Zarif amid internal fighting between moderates and hard liners in the country who accuse him of not reacting strongly enough to provocation from Trump.
Zarif served as Iran's ambassador to the United Nations before becoming Foreign Minister in 2013.
He was educated in the US and holds a PhD in international law from the University of Denver.