Europe briefing: Labour MP quits, FIFA sanctions Chelsea, and Pope Francis on sexual abuse
Comments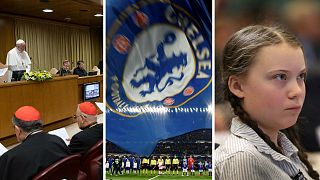 Ian Austin, the MP for Dudley, in the West Midlands, resigned from the Labour Party on Friday. He is the ninth MP to do so this week.
He told the local Express & Star newspaper that his decision was based on the party's handling of the anti-semitism row and Jeremy Corbyn's lurch to the "hard-left".
"I am appalled at the offence and distress Jeremy Corbyn and the Labour Party have caused to Jewish people," he said.
Austin said that he has no plans to join the Independent Group, like eight of his colleagues who also quit this week.
FIFA banned Premier League club Chelsea on Friday from registering new players for the next two transfer windows at both the national and international level.
It also fined the club CHF600,000 (€529,000) for breaching article 19 of the organisation's regulations in the case of 29 minor players and for committing several other infringements relating to registration requirements for players.
Britain's Football Association was also found to have breached rules in connection with minors and was fined CHF 510,000 (€450,000).
Both Chelsea and the FA can contest FIFA's decisions.
Former World Trade Organisation Director-General Pascal Lamy told Euronews that "nobody is ready for a no-deal Brexit".
"What happens the next day is that you move down from the first league to the fourth league (...) which means tariffs, borders, controls, frictions, big costs for everybody.
"I think people will be wise enough not to jump from the cliff without a parachute," he added.
His remarks came after a meeting in Brussels between UK Prime Minister Theresa May and EU Commission Jean-Claude Juncker failed to produce any breakthrough.
Pope Francis outlined 21 "reflection points" for tackling sexual abuse in the Catholic Church on Thursday on the first day of a four-day Vatican summit on the issue.
But critics said the pope's proposals do not go far enough.
"I'm somewhat sceptical because the track record, the history of the Church up to this point suggests that maybe they still hope that this problem will go away and if they make these kinds of statements that it might satisfy victims, make us more inclined to trust them or to be quiet,"James Faluszczak, a former priest, himself a survivor of clergy sexual abuse, told Euronews on Friday.
Swedish activist Greta Thunberg is joining a student climate protest in the French capital, set to kick off at 13.00 CET.
The 16-year-old, who has sparked a burgeoning youth movement demanding action, was in Brussels on Thursday.
She berated EU representatives, arguing world leaders "talk about almost anything except the climate crisis."
Thunberg and the youth movement for the climate are organising a new "big international strike" on March 15.
Thousands of Albanians demonstrated in the country's capital city on Thursday to protest alleged corruption by Prime Minister Edi Rama.
The peaceful demonstration culminated in a march led by opposition leader Lulzim Basha to hand over signed statements by his MPs giving up their parliamentary seats and demanding fresh elections.
You can follow Euronews' live coverage every weekday from 6am-midday CET.