Protesters attack Albanian prime minister's office, demand he resigns
Comments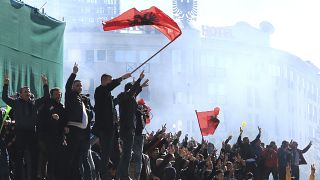 Albanian opposition supporters broke a police cordon in the capital Tirana on Saturday after throwing petrol bombs and flares.
At one point they tried to smash down the doors of Prime Minister Edi Rama's office with metal rods.
Six people were reported injured.
According to the opposition Decmoratic Party which organised the protest around 50,000 people were bussed in from across the Balkan state.
Sali Berisha, Albania's former prime minister and president, threatened Rama that the people of Tirana would throw him into the city's river if he didn't step down.
Berisha's government fell after corruption scandals, which mostly tainted its coalition partner in 2013.
Lulzim Basha, leader of the Democratic Party linked Edi Rama to organised crime.
"A captured government, a state captured by criminal and private interests has led to economic decline, unemployment and a full economic crisis," he said before the protest.
"This has cost for hundreds of thousands of Albanians to lose their jobs and huge numbers to emigrate illegally to countries of the EU and the United States."
Rama, who was in the southern town of Vlora, accused the opposition of trying to overthrow him.
Tensions are high: a few days ago, an MP during a Parliament debate threw some ink on the Prime Minister during a parliamenary debate.
After World War Two impoverished Albania was run as a Stalinist state until the 1990s when it began to democratise.
Albania applied for membership of the EU ten years ago and now has "candidate status." Talks to join the bloc are still ongoing.