Iran's Rouhani blames US and allies for attack on Revolutionary Guards
Comments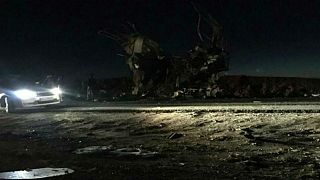 Iranian President Hassan Rouhani blamed the US and its allies on Thursday for a suicide bombing that killed 27 members of its Revolutionary Guards. 
The attack took place on Wednesday on Chanali road between the cities of Khash and Zahedan in the Sistan and Baluchistan Province, near the Pakistan border.
Known for being volatile, militant groups and drug smugglers frequently operate in the area.
Jaish al Adl, a militant Sunni Muslim group, claimed responsibility for the attack via its telegram channel. It says it is seeking greater rights and better living conditions for the Baluchis.
But speaking on state TV, Rouhani described the attack as a "'dirty stain' in the black record of the main supporters of terrorism in the White House, Tel Aviv and their regional agents."
Meanwhile, Iran's Supreme Leader Ayatollah Ali Khamenei ordered immediate action against those responsible. 
Iran's foreign minister, Javad Zarif, referenced a US-led summit on "peace and security" in the Middle East that kicked off in Warsaw on Wednesday in a tweet on the attack.
"Is it no coincidence that Iran is hit by a terror on the very day that the #WarsawCircus begins?" he wrote.
Foreign ministers and senior officials from 60 nations gathered in the Polish capital on Wednesday in an effort widely viewed as an attempt by Washington to rally world powers behind its vision against Tehran.